This past winter Gift Emmanuel Orban arrived at KAA Gent from Norwegian club Stabaek. His statistics have been most impressive for the Belgian club ever since.  
At only 20 years old, the Nigerian, who grew up in Togo, is a complete striker, capable of shooting from distance, scoring with a header and moving like a fox on the ground. 
His exploits have already attracted a number of European clubs as well as the Nigerian national team, where he would join Victor Osimhen or Terem Moffi. Recently, he was called up by the U23s.
The same secret hope inhabits all gold miners: to discover the nugget.
Torgeir Bjarmann unearthed his in November 2021, during a scouting tournament in Nigeria.
"We had driven three hours to reach Uyo (in the south of the country), where Akwa United made their training grounds available," recalled the sports director of Stabaek (Norway).
"Nigeria is so huge. The big clubs cannot cover the whole country in scouting, unlike Ghana, Côte d'Ivoire or Senegal, who have structured academies. This is the advantage for clubs like ours."
Gift Emmanuel Orban ("GEO") plays in the team in white, made up of players from West Africa. He is French-speaking, grew up in Togo, the country of his mother, and Nigerian by his father, originally from Benue State.
"A few minutes were enough for me to know that he had something special," continued Bjarmann.
"It is very difficult to put yourself forward in these conditions, without tactical benchmarks.
"He was both instinctive and intelligent, playing sometimes as a playmaker, sometimes at the forefront of the attack.
A former Bison with the Buffalos Tonic, good on both feet, dexterous, he won a chance for a winter trial in Bærum, in the western suburbs of Oslo.
He discovered the freezing temperatures… the staff of Stabaek hesitate…his tourist visa expires. Bjarmann insists, offers a loan with option to buy.
The second Norwegian stint by Gift Orban is good for everyone.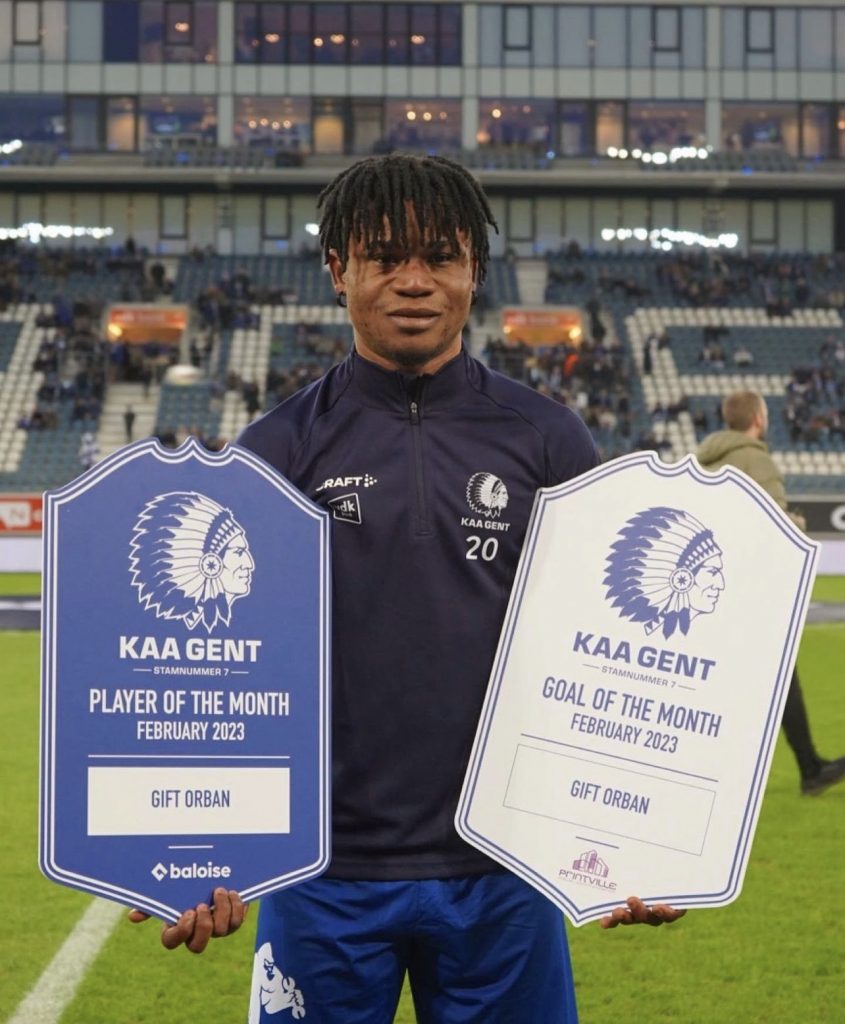 "Everything was easier for him, he knew the food, the climate, his teammates. He only stayed three weeks with the reserves. With the first team, he scored in almost every match," the sporting director narrated.
"He finished top scorer in the D2 Championship (16 goals), best young player of the season and took hold of his destiny.
"Another Belgian club were interested, but we were the first to bid," assured Michel Louwagie, the general manager of KAA Gent.  
"We made a first offer in December (2022), we continued to make them and we finalised on the last day." 
Former Bison FC, Nigeria, Orban seemed destined for the Buffalos, the nickname of the Belgians.  
Medical tests and paperwork end at 10 p.m. on January 31, two hours before the transfer window closed.  
"We were promoted, we ran too great a risk to let him go," recollected the sports director of Stabaek. 
"The plan was to sell him in the summer of 2023. And then came an offer that was impossible to refuse. At the time, the Belgians had the impression they paid too much for him. (Laughs.) Since then, they have realised that they got a good deal!"  
The deal closes at 3.25 million Euros.  
"We thought he was expensive for a player from the second division," said Louwagie. 
"But we were so convinced of his qualities, we did not hesitate." 
Coach Hein Vanhaezebrouck – whom the player calls "[s]on papa" – said he is "a top player for the future", but urged "patience" for him to reach his full potential. 
Orban quickly became the darling of the Ghelamco Arena, the home of KAA Gent.  
A brace at Westerlo (3-3), winning goal against Anderlecht (1-0), four goals at Zulte-Waregem (6-2), all by mid-March.
The daily LaDH reported that his agent Atta Aneke then congratulated him by telephone. 
"Nothing special", simply answered the phenomenon, who is still hungry for more goals.  
Three days later in Istanbul, the Nigerian striker saw his value go through the roof. 
Three goals in three minutes and 24 seconds and history is made against Basaksehir (4-1), in the Round of 16 of the UEFA Europa League Conference. 
It is the fastest hat-trick in a European competition, exit Mo Salah! 
At the microphone of RTBF, the hero is not exultant: "My duty as an attacker is to score in all positions."  
He has also alerted the transfer market. 
With 16 goals in 18 matches, (latest update is 19 goals in 19 matches) "GEO" already behaves like CEO of Gent.  
"I watched all his matches in Belgium, it's fun," assured Bjarmann.  
"He reproduces the same thing as what he was doing in Nigeria or with us in Norway.  
"He can shoot from afar, score from the head, move like a ground fox, he is capable of scoring all types of goals!"  
The complete striker, in short. 
 
"He reminds me a bit of Jonathan David (the Lille centre-forward recruited from Gent for 27 million Euros in 2020). I even have the impression that he more involved in a game", remarked Louwagie, the general manager of Gent who wants to hold on to his top star. 
In Belgium, where Gift Orban lives alone, someone from the club assists him on a daily basis.  
In Nigeria, he has been warmly received, like his compatriot Victor Boniface (22, Royale Union Saint-Gilloise), who also passed through Norway (Bodö / Glimt).  
"The country's most popular pay TV, SuperSport, broadcasts Jupiler League matches live and the young fans also follow him on the various social media platforms," said Samm Audu of Score Nigeria  
While waiting to join Victor Osimhen or Terem Moffi in the Super Eagles, Orban (20) has excited the transfer market.  
"It is not our intention to sell him this summer," explained Louwagie. "His agent knows that. He signed four and a half years."  
Even in the event of a bid ten times more than what was paid for him?  
It would be the biggest sale by a Belgian club, currently owned by Club Brugge (Charles De Ketelaere at AC Milan for 32 million euros, in the summer of 2022).  
"It's a fantastic story," concluded Torgeir Bjarmann. 
"In training, he was smiling but quite loud because he wanted to win everything. He has great confidence. For him, it is natural to cross levels without an adaptation period. His possibilities are limitless."  
The gold mine too.  
According to our information, Stabaek have negotiated 15% from his next transfer.
Adapted from France Football/ By Emmanuel Bojan