FC Lorient have made a super start to the season in Ligue 1, they are now among the front runners. And it is not only thanks to new coach Régis Le Bris.
The coastal club can count on Terem Moffi, who has rediscovered himself after a complicated time last season.
The Nigerian striker has carried his team's attack, as much as he has done that at KV Kortrijk in Belgium and FK Riteriai in Lithuania.
This is an interview with someone who has a better chance of winning the Ballon d'Or than Master Chef…
FC Lorient are the sensation at the start to the season. Are you surprised that the team are doing so well?
I'm not surprised because we have a good team. I know we can do great things if we all work together. We are not yet thinking about finishing on the podium, we are just trying to have the best possible season, to finish as high as possible.
It's normal that we win matches because we work a lot for that. It's not an accident. We play very well and we work as a team. We are not over excited we deserve every victory we have got this season.
Do you think you can stay among the front runners and qualify to play in the Champions League?
Some people say it's impossible, but we'll do our best to finish as high as possible. So I would not say the Champions League, the Europa League or the Europa League Conference, but we will do everything to be at the top.
We are having a very good start to the season, we will try to continue like this, then end like this.
Besides you, who is the best player of the team? Is it Enzo Le Fae?
(Laughs) It's a team sport! It's not tennis or ping pong. We work very hard as a team. We don't tell each other that you are the best player on the team. We need everyone, so there really isn't a "best player on the team."
Not even who has impressed you the most?
This season, Dango (Ouattara) has been good, Enzo (Le Fée) has been very good, Laurent Abergel, Yvon Mvogo, Talbi too. We have all been very good. This is what brings us to where we are at the moment.
Which match will you pick as your best so far?
I think it's the match against Lyon (3-1). Everyone has been great, the team have been amazing. We were able to produce a good game, we managed possession well and we scored some good goals.
How was your childhood in Nigeria?
I grew up in the south of the country, in Calabar. I was going to college, I was playing football, I was spending time with my family… It wasn't really special, I was just playing football in the street for fun, nothing was important. I started kicking a ball very early. So much that I don't even remember. We were playing with friends.
Whenever you talk about your childhood, you sound a little nostalgic…
When you grow up, it really is the best time of your life! You don't have to worry about anything, there's no pressure, you just live your best life. You do what you love, you don't pay bills, you just play soccer, you hang out with your family, you hang out with your friends. You're having fun! It was the best time of my life.
Did the fact that your father was a former player influence your love for football?
Yes, I think so, because I remember he always brought me boots, balls, shirts. It necessarily influenced me in my choice to turn to football. I think football runs in our blood, in that of our family. My grandfather also played football, it's like a family tradition.
What was your first jersey?
Honestly, I can't remember the name of the club, but I have a picture of myself in my phone with this jersey. I don't know which club it was. It must have been a random jersey he brought me. On the other hand, my first boots were Adidas Copa. The first shirt I really remember must have been that of the Nigerian team. But I no longer remember if it was the name of Okocha or Nwankwo Kanu that was displayed on the back.
In the profile that So Foot did on you, your father said that one of your older brothers would have been a much better striker than you if he hadn't chosen to study. Is it true or is it just talk?
No, that's totally true. My second brother was… He really was the best. He was a goal scorer, I was still a midfielder, and he had everything. All! He was strong, powerful, fast. I think he would have been a better striker than I am now. But he chose to go to school! (Laughs)
Why didn't you do like your big brother and choose school over football?
I think that when I had the opportunity to choose between football and school, I chose football because I knew that I would go far thanks to my qualities and my mentality.
How does your father, as a former footballer, view your success? Does he still push you, or does he think the path is already done?
No no, he is never satisfied. He pushes me all the time to be better. He watches all my matches, so he is always analysing them to tell me that I could do this or that. And I try to apply it in the next match. He is never satisfied, he always wants more from me.
When you left Nigeria for England, you still got a diploma in business management. So you hadn't completely drop out of school either.
Yes, I have this diploma! It will be very useful to me because I plan to go back to school in the next two or three years, to study. There is life after football, so I have to be ready for that.
You're only 23 and you're already thinking about your post-career?
Sure! As soon as I'm ready, I'll go back to school. I want to pursue the path of business management .
In England, you also impressed a fitness trainer who thought you could have made a good sprinter. Are you the fastest at Lorient?
It's true! I don't know what time I do in 100 metres, I've never tried. In the team, I think I'm the fastest over 50 metres. Over 10 or 20 metres, I think that Steph' (Stéphane Diarra) or Théo Le Bris are the fastest. They have great acceleration.
If you hadn't been a footballer, could you have become a sprinter?
No, I wouldn't have done any sport other than football, I don't think. I would surely have gone to school to study more!
Then you went to Lithuania. Is it true that you had to google to find out where it was?
(Laughs) Yes, I had never heard of this country before! When my agent told me I had an opportunity in a country called Lithuania, I had to google to find out where it was and what kind of nation it was. But I didn't even hesitate for a second to go there, it was a huge chance to turn professional.
After six months there, you couldn't get back there for almost a year and a half. How did you get over this situation?
It was a really tough time. I couldn't get a visa to Lithuania, so I had to go through the embassy in Egypt and then go to South Africa. It was terrible. So I was just at home in Nigeria, training hard. It's not something I would like to experience again.
Being back home after having touched your dream of becoming a pro in Europe, did you experience it as a failure?
Not at all. I was with my family, of course, and I never saw that as a failure.
Whenever you talk about this experience in Lithuania, you mention the food there. Was it that terrible?
Oh man… I wouldn't say it was terrible, but… To be honest, it wasn't really the best, what. Afterwards, it wasn't the kind of food I was familiar with. So I didn't really take advantage of it. Not at all, even.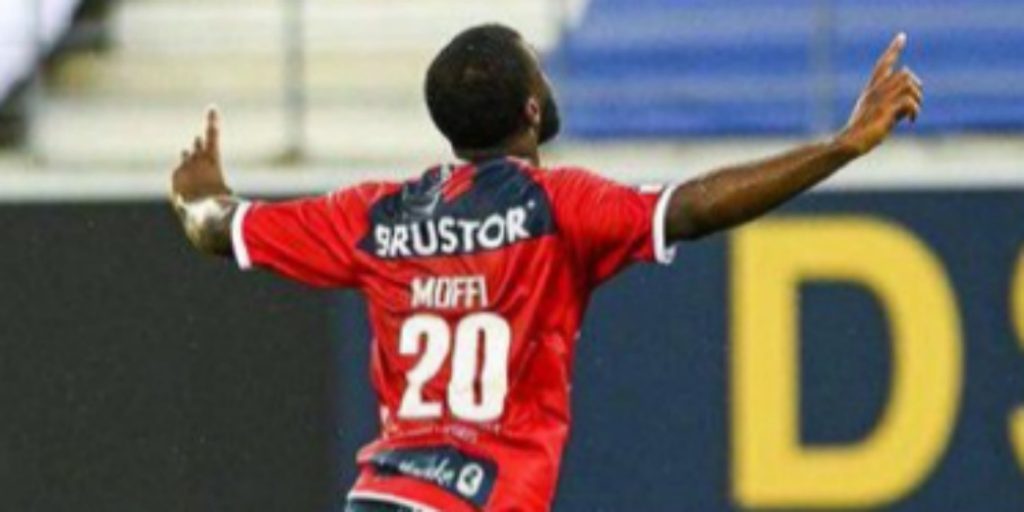 Do you know how to cook?
Technically, I know, yes. But I'm not perfect, I'm not good at it. My signature dish is the Nigerian Jollof rice.
So who cooks for you at Lorient?
Now I have a chef who does that for me. So I eat well, balanced diet – pasta, chicken, vegetables… Better than in Lithuania, that's for sure!
What was the more terrible? The cold and the weather or the food?
Obviously, the weather. I'm Nigerian, and at home it's always hot, it's always summer. When you go to a country where sometimes it's -20 degrees, it's crazy. It is too hard.
At the same time, since you've been in Europe, you've been to England, Lithuania, Belgium and now Brittany. These are not very hot regions…
That's for sure, but in all of this, I prefer Brittany because sometimes it's hot during the summer. It's raining a little too, and I like it. It never really gets very cold, so I like the weather here pretty well.
You've already said that you didn't know what pressure was, that you didn't care about how much is your transfer fee, that it was your job. It sounds a lot like Mario Balotelli.
What I mean is that it's football and that's what I chose to do. Obviously, people talk a lot, there are lots of criticisms, but by choosing to be a football player, I accepted to receive these comments. I have to put them behind me. There's no pressure, whether it's the price I cost or anything else. I focus on me.
Last year was clearly not your best season, and it was the first time you were criticised. How was that experience?
There was a lot of talk and criticisms, but I know, and everyone knows, that I'm a good player, so it was easy for me to deal with it.
It's interesting because after your first season, where you scored 14 goals, some are still wondering who this Terem Moffi that is battling Mbappé and Neymar (in the goals chart). Now you say everyone knows you. When did the change happen?
There are times when you sit back and look at what you've accomplished as a human being. And that's how I realised: "Yes, I'm a very good player. I think I came to that conclusion last year. I sat down, I watched my videos, I saw the comments from journalists, sports analysts too, and I said to myself: "Okay, I'm a pretty good footballer» And a lot of people also told me that I am very good. It's something I took in.
In addition to journalists, perhaps the fact you receive offers from big clubs has reinforced your belief?
I'm not going to say that I've had offers from big clubs, but when you hear rumours that this team is interested in you, you start to say to yourself: "Oh, I'm so good that this club want me, to buy and spend a lot of money on me".
Knowing that your family are Chelsea fans, could the Premier League be a destination?
In fact, in my house, we have Chelsea fans, Manchester United fans and Arsenal fans. We are divided.
And you, in which camp are you then?
I am a fan of Lorient!
Yes of course, since you were a child, you have been a fan of Lorient…
(Laughs.) No, in reality I supported Chelsea.
What is the competition that makes you dream?
Obviously, every footballer wants to play in the Champions League and the World Cup. Unfortunately, this year I will not be able to participate in the World Cup, so I will have to wait until 2026 and hope to be there. Otherwise, the Champions League, I really want to play it. Why not with Lorient next year, you never know!
As a fan of Lorient since your childhood, it would be a sweet dream…
(Laughs.) Yes, it would be perfect, and everyone would be happy.
Who is the best defender you have played against in Ligue 1?
I don't like facing Kimpembe at all. He's strong, fast… It's always hard to play against him!
Do you feel that the defenders are more focused on you than in your first season?
Sure. Since last year, I know that they pay more attention to me. It's the same this season. When you score a lot of goals, you get attention, and everyone has to be ready for you.
You are 23 years old and already quite busy. How would you describe your journey, from Nigeria to France?
I would say breathtaking and frantic. From Nigeria, to England, via Lithuania… All of this was done in a very short time, in four or five years. And there is also the fact that I have also done well in football. It's inspiring and breathtaking, It's also surprising. Because some people take a long time to get to Ligue 1, and it only took me three years.
INTERVIEW BY LÉO TOURBE