IKENWA NNABUOGOR laments on went so horribly wrong that Chibuzor Okonkwo, once destined to be Super Eagles captain, has been in limbo for the past two years…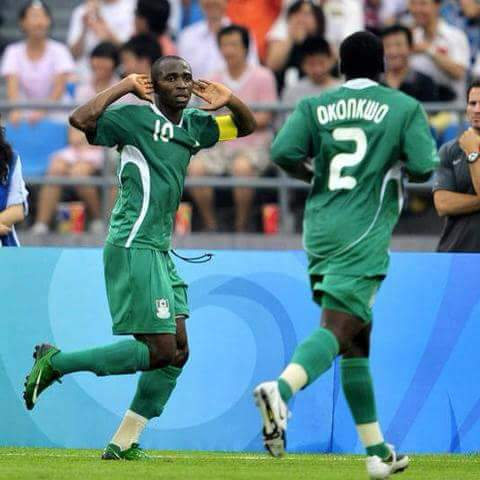 Chibuzor Okonkwo would most likely have been captaining the Super Eagles now had misfortune not come knocking on his door to completely shut him out most regrettably.
The Bayelsa United captain had everything going for him – finding his rhythm early in his career, grabbing his chance at cadet level with both hands and maintaining a commanding presence both at club and national levels.
But sadly, all those promises went with the wind and ultimately grinding to a halt to the surprise of close football watchers.
Sourced from the famed Jos-based youth side El-Kanemi youth club that nurtured stars like Mikel Obi, Ogenyi Onazi and Solomon David Abwo, it is still a mystery how this supremely talented all-rounder lost it all.
Chibuzor is currently without a club as he has been inactive for two years running after returning from a fruitless trip in Bahrain.
What's most baffling in Chibuzor's sorry situation is the fact that despite his immense talent and awareness in the beautiful game, he never got to play in Europe.
Libya of all places, remains the only place outside the shores of Nigeria, this utility player was able to take his game to.
In the beginning, Chibuzor was destined for the top after impressing the Olympic team officials and France was his very first destination even before the Dream Team III qualified for the 2008 Beijing Olympics.
Strasbourg offered him a trial in early 2007 as a fresh 18-year-old, but nothing came out of it eventually.
Rennes came into the picture immediately and it was the same story.
It was learnt that the French clubs were particularly not impressed with his attitude and promptly dropped their interest.
His stocks rose astronomically when he took Taye Taiwo's leftback position at the Beijing Olympics and bigger clubs swarmed around him.
Chibuzor would traverse Europe for trials and sadly nothing came out of those trips abroad.
No fewer than 12 agents were linked to him and that appeared to have complicated his problems, leaving him not playing in Europe despite his huge potential.
Could his inability to sign a contract in Europe have had some spiritual undertones?
And could he have been having problems with the agents that brokered all his Euro trials or his attitude did him in?
Could his coaches that played him at national levels have contributed to his problems of tying down a club in Europe due to their selfish reasons?
While these questions continue to beg for answers, it remains regrettable that Chibuzor lost his way when it mattered most, leaving him not fulfilling his huge potentials that would most certainly have seen him play a dominant role in the Super Eagles.
One thing is certain – Chibuzor had it takes to crack it at the highest level in Europe.
So good he was at his peak that Aston Villa of England showed interest in the player, but again nothing came out of it.
While all these dramas were playing out on his quest to take his game to Europe, the former Heartland captain remained the biggest star on the local scene, winning the NPFL Player of the Season twice and making the NPFL Team of the Season severally.
At a point he was the only local-based player in the Super Eagles that many thought it was just a matter of time before he joined his national teammates in Europe.
Former Super Eagles goalkeeper Dele Aiyenugba was so impressed with Okonkwo that he walked up to ask him what club he was playing for in Europe after a first meeting training together.
Even when his stocks took a plunge, Swedish and Finnish clubs still queued for him, but unfortunately nothing came out of those late interests, leaving football watchers wondering if he had been under a spiritual curse.
Finally, he would manage to move to Libya of all places!
He left a solid mark in the troubled North African country only to come back to sign for Rangers.
It's been two years he last kicked a football and it appears his candles have finally burnt out due to inactivity.
At 31, good football should be left in him and could still be back, but certainly not attracting clubs to break the bank for him.
Asian football could beckon on him but will have to double up on his conditioning to arouse interest again.
Chibuzor may have charted a rough career path, but one would still wonder what could have been for this particular player.