IKENWA NNABUOGOR talks up an interesting Jose Peseiro's headache for tough choice between Super Eagles star striker Victor Osimhen and the fast-rising star Terem Moffi starting with this evening novel exchange against Portugal in Lisbon…
Coach Jose Peseiro has wasted no time in handing red-hot FC Lorient striker Terem Moffi the top striker's shirt in this evening's first-ever meeting against Portugal in Lisbon following the unavailability of Napoli hit man Victor Osimhen.
The Serie A defenders' nightmare had opted out of this interesting match-up after a back injury soon after he was named in the team and then had his place taken up by US Cremonese striker Cyriel Dessers.
Peseiro has promptly handed the first-team spot to his fast-growing Moffi to lead the Super Eagles attack, beaming with confidence his boy would take up the gauntlet like a soldier aiming to shoot down Peseiro's compatriots to improve his chances of regular football in the Eagles' ranks.
Moffi has done well for himself from previous cameo roles with the Eagles to a regular feature and indeed, a starter in the absence of Osimhen, who incidentally will be sitting out this epic clash.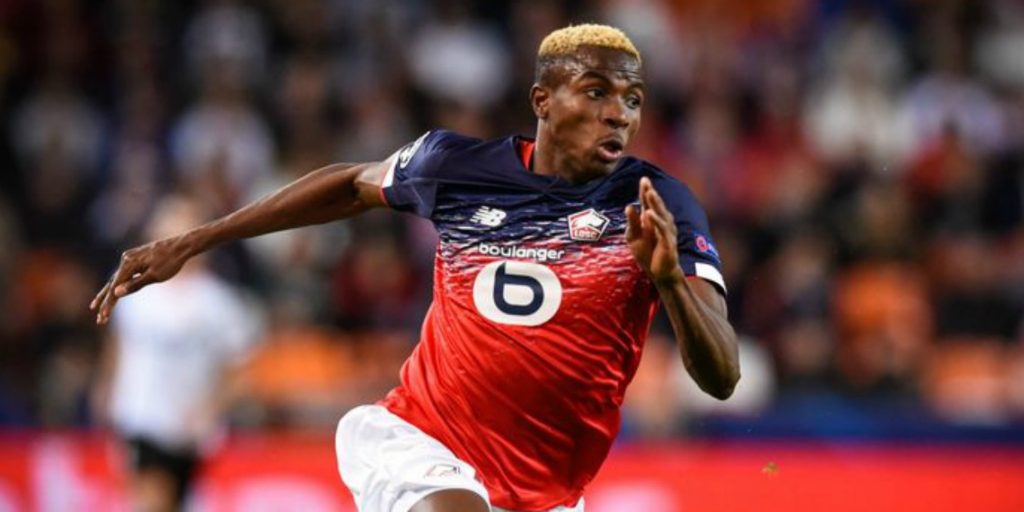 Peseiro is a great admirer of the 23-year-old star who's led his French club's attack since he switched from Belgium two years ago and has translated same for the chances he's got with his national team, mostly under Peseiro.
Peseiro's love for the youngster is growing admirably, forcing the 62-year-old former Al-Ahly manager to back his "emergency" arrowhead to go for broke and make him not to miss Osimhen in tonight's encounter.
Moffi had been recognised as a future talent for the national team by the departed Gernot Rohr who eventually bowed to media pressure to blood him into the team to grow under the wings of Osimhen and the youngster hasn't disappointed.
Moffi, himself, followed Osimhen's footsteps to France after arriving Europe through the backwaters of Lithuania few years ago to progress his fledging career just like Osimhen did and it appears he will definitely hit the double figures in transfer fees this summer for a handsome profit for the modest clubside.
He's netted thrice in eight appearances for his country – not a bad harvest for the youngster who won his first cap two years ago and he will have to work his socks off to first maintain his place on the squad and then ultimately upstage Osimhen as the arrowhead in the Eagles attack.
Does he have the capacity to sway Peseiro's choice for him ahead of Osimhen?
Just like it was very tough in the hey days of late Rashidi Yekini, it will be pretty tasking for that to happen as things stand in the Super Eagles as Osimhen is clearly top choice, but in football, a lot happens and that can happen so fast as surprises can never be ruled out.
Coaches' choices are important factors and the players' attitude is another and it will remain to be seen what happens going forward.
In truth, it isn't yet time for a sudden and surprise damning of Osimhen by Peseiro especially with this Portugal unavailability scenario but it should be work in progress after all for the Lorient striker.
The odds will be fiercely against Peseiro if he thinks that especially now that the results are not worthy of the team that were once feared in world football.
Moffi has proved to be as prolific as Osimhen, but will need lots of catching up to do to match and surpass Osihmen's fierce hunger and will power, but then Moffi has to continue justifying his inclusion in the team first and then every other thing will follow naturally.
He's put 10 goals past goalkeepers this current season in France, a goal more than Osimhen's in Italy but the stages are not the same, putting Osimhen ahead of him in the scheme of things in the Eagles' attack.
The former KV Kortrijk of Belgium striker is, as usual, popping up as the attack arrowhead this evening because the big cat is away and it will do his Eagles' chances a world of good by grabbing a goal or two and inspiring a victory in the process.
Tough task it seems, but in the beautiful game anything can happen, ask the PSGs, the Monacos and the Lyons of this world what happened to them when the Ogoja lad came calling, the goalkeepers were green with anger.
Portugal are not bigger than the top four clubs in France to stop Moffi from making hay and should he make the Portuguese eyes cry, he's only increasing Peseiro's love for him and frantically stepping up on Osimhen's chase.
Moffi and Osimhen are not new faces to the national team – both were mates and indeed rivals as attack arrowheads with the Golden Eaglets to the 2015 FIFA U-17 World Cup in Chile, but Osimhen was eventually preferred and the rest is history.
Their unfinished business is back again, this time at senior level and it will remain to be seen what happens in future.
This time it's quite a different thing, Moffi isn't backing down for Osimhen, but both are in the same ship under one captain whose job is to get results and improve the team's fortunes.
Eagles are back together again on March 20, 2023 to host Guinea Bissau for the Cote D'Ivoire 2023 African Cup of Nations qualifiers as Peseiro chases the ticket with all his full chest as the Abidjan destination appears near with the hosts winning all three games and topping the table with maximum points.
Moffi will also rely on Peseiro's invite ahead of the huge clash to continue improving himself and attracting more attention.
One thing is certain – Moffi has done well to play himself firmly into Eagles reckoning and he is now working hard to go higher in the pecking order where's he's unofficially the number two man behind Osimhen.
Loss of competitive club football has pushed Leicester City striker Kelechi Iheanacho off the ladder to Moffi's benefit, for a striker who was barely nowhere to be found on the pecking order less than a year ago.
Nottingham Forest's Taiwo Awoniyi, injured Real Sociedad hit man Sadiq Umar and 2021 AFCON surprise inclusion Peter Olayinka are all unavailable, while KRC Genk giant striker Paul Onuachu makes a well-deserved comeback, making it looking a bit less competitive for smoking Moffi.
Eagles could well be having a brand-new arrowhead in Moffi to send Osimhen down the pecking order should he continue firing his way up for both club and country.
Time will tell.