Zaidu Sanusi, who was much maligned by fans of his club FC Porto most of this season, and Moses Simon are proud winners in their respective bases in Europe this past weekend.
5.Sadiq Umar
The striker has remained consistent in front of goal with his 17th goal in La Liga 2 for UD Almeria to beat Amoberiata 3-0 at home. Almeria remain top of the standings, two points clear of their closest rivals and will gain automatic promotion back to the top league in Spain should they avoid a sudden collapse in the last three games of the campaign. This will make up for the heartache of missing out on promotion through the playoffs last season.
4.Cyriel Dessers
Dessers has continued to prove an added value to Dutch giants Feyenoord on loan from Genk after he conjured two late goals for salvage a draw with PSV. He now has eight goals in the league and 10 in the UEFA Europa Conference League. The striker has also netted 10 goals in the Conference League with his Dutch club set to battle AS Roma on May 25 for the top prize. However, they are far off the pace for the Dutch league championship.
3.Alex Iwobi
The Super Eagles forward has continued to play a big part in Everton survival fight with his latest contribution being an assist in a crucial 2-1 win at Leicester City. Everton are now a point outside the drop zone with four matches to spare for 'The Toffees'.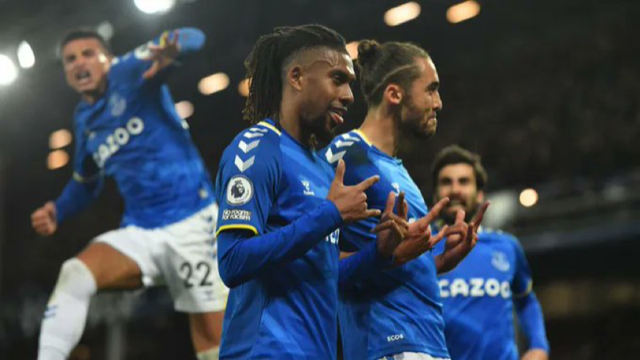 2.Moses Simon
A Coupe de France triumph after more than two decades without a major trophy has crowned a superb season for the Super Eagles flying winger. This comes on the back of his exploits at the AFCON in Cameroon and now it is expected he will make a big-money transfer possibly to the Premier League this summer. Fingers crossed.
1.Zaidu Sanusi
The rejected stone has now become the cornerstone at FC Porto and he did it in super style to shut up his many critics among the fans with his well-taken winner at Benfica. That explained the tears after the goal. It must also be recalled that this was a player who was forced by injury to go down to the fourth division in Portugal before he fought his way back to the top with the most successful club in the country. His character to confront adversity has again come to play for the Kebbi-born fullback.