SCORENIGERIA interviews FCT FA chairman Adam Mouktar Mohammed to mark his first year in office.
The full interview –
SCORENIGERIA: Chairman, it's now a year since your resounding victory at the polls in Kuje. What do you still remember of that historic day?
ADAM MOUKTAR MOHAMMED: Yes indeed, how time flies…I am very thankful to all those who have been my backbone-support all through this remarkable journey in the football ecosystem, over two decades of service to the game.
I get very nostalgic when I remember that day – 20th June, 2019 – it will remain with me forever because it was very special, history was made!
I won one of the most keenly contested FA Chairmanship positions in Nigeria ever against a two-term incumbent.
Secondly, the resounding number of votes was a testament of the confidence the electorate have in me.
Also, the way and manner the whole election venue erupted when I was announced and sworn in as winner was incredible.
I could see the brightness in the eyes of my fans and supporters, the general stakeholders in the FCT and Nigeria as a whole, they felt so overcome with hope that I was going to give something positive in football development in the FCT and Nigeria.
I still feel the weight on my shoulders and a sense responsibility that I must deliver, I cannot disappoint them.
You promised to hit the ground running from that day. How would you say you have fared so far as FA chairman?
I was prepared and had a blueprint so it was fairly seamless to pick up and start to get things in place.
The difference is there for all to see in 12 months minus the Covid-19 lockdown months so far we have achieved a lot.
It's all down to teamwork and commitment plus the support and cooperation of all stakeholders in the FCT and the country at large.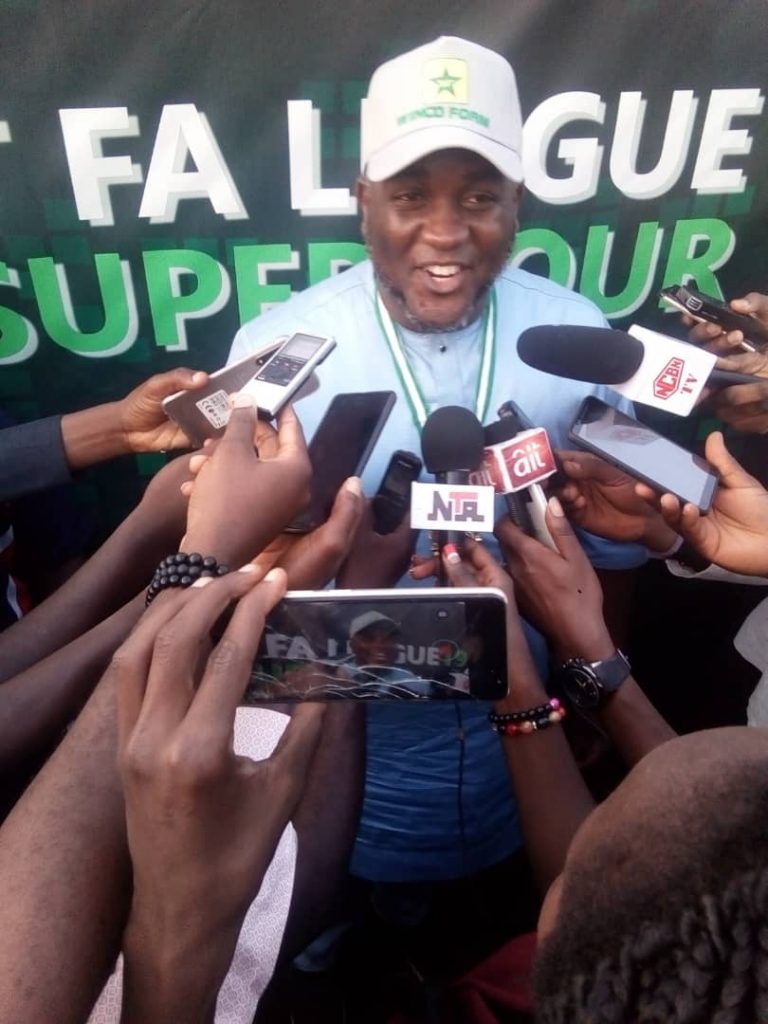 Of all the milestones attributed to your office, what has given you the most satisfaction and why?
I would say of all things I have been able to achieve the most dear to my heart is the coaching clinic and the Bayern Youth Cup and these are the direct effect you have on human lives.
You touch them, you change them positively, you give hope… you awaken the can-do spirit that lies deep in each and every human soul.
Talent is never enough…it needs a lot of other ingredients to bring it to life!
When I see a grass-to-grace story it brings joy, softens my heart, makes me emotional and gives me an incredible sense of fulfillment…. nothing beats making that human impact…
The provision of basic infrastructure remains one of the pillars on which you came to office. Have you now made progress in this regard?
Yes indeed, we are very focused on that as we know without it you cannot make any meaningful development.
That is the basic core foundation you can teach and expose the game.
There is a direct correlation between number of quality facilities and success with number of quality players, coaches, referees you can produce.
We have undertaken the renovations in the two main stadiums in the Abuja city centre, of course they are Government-owned so we are constrained to what we can do as to totally revamp them, but we are in advanced discussions on how to increase football pitches across the six area councils as I promised to take facilities to the most improverished communities so as to give them the platform to develop.
We are talking with partners for concessioning some of the area council stadium complexes so we will see how it goes.
The Covid situation is a big setback to the economy, football activities and prospects…but we remain hopeful and very positive.
How is your FA's relationship with the FCT administration in particular the sports council?
We were very clear that we are under the government authority and the FCT administration particularly the current Director Sports Madam Dilichukwu Oyedinma laid the foundation for a transparent elections and successful handover for us to hit the ground running.
We always seek counsel, support and leadership from the FCT administration.
Before Covid-19 your focus was to shift to women's football. How do you plan to put this aspect of the game on a firm footing in the FCT?
Yes indeed, we have not given it the needed attention considering the huge potentials, we have no reason to assume the male is better or superior.
Take for example the USA, the female national team is far more successful than the male team hence as a brand it brings in more money and fans now than the male…
So, we must start from the ground and build the strong foundations, so when we build up, it will stand on strong pillars and be profitable as an entity.
We need well-structured clubs, new exciting talent, facilities, technical support and sponsorship
An U15 tournament was the first your administration organised. How much satisfaction did you get from this programme?
Yes indeed, we did an FCT-wide talent hunt, I made sure for the first time it was open, transparent and each area council was given a sense of belonging by involving their teams, coaches and players.
And we did a rigorous process to select the best of the best, it was an incredible basket of talents, who have massive potentials, who I bet you will soon see many of them play for the national team.
I am overly excited…if there is anything that gets me revved up it's to see the fire in the eyes of a new budding talent ready to show the world what he can do.
To be continued