IKENWA NNABUOGOR ponders if there are gains for Nigerians in diaspora to wear the colours of their native country…
The likes of John Fashanu, Paul McGrath and John Salako and much later, late Ugo Ehiogu were some of the early players with the Nigerian blood gushing in their veins to don the colours of their adopted countries.
Those were the early diaspora targets for Super Eagles, but they ended up donning the colours of England and Ireland, respectively.
Much frantic efforts were made to get Fashanu and Salako who were on fire at Wimbledon and Crystal Palace, but lure of the Three Lions was too tempting to turn down for these strikers.
Sadly, Fashanu only turned out for his adopted country twice, while Salako's contributions to the Three Lions were fractionally better than Fashanu.
Gabriel Agbonlahor and lately, Chelsea's pair of  striker Tammy Abraham and defender Fikayo Tomori were approached by Nigeria to dump the Three Lions for the green and white colours of the country of their roots, but, just like Fashanu and Salako, they opted to play for England, the country of their birth, making them some of the numerous players lost to adopted countries.
There are many more who never thought it twice to dump the idea of donning the Nigeria's jerseys for those of their adopted countries.
The big question now – is playing for Nigeria actually worth it?
To current internationals and ex-internationals, playing for Nigeria is not worth it mainly due to the ill treatment most have received from the football authorities in their times of need.
Coincidentally, never in the history of the game have Nigeria had a multitude of players of Nigerian roots scattered all over the world waiting for their countries of birth to give them the green light to continue adding to the long list of talents lost to foreign countries.
At last count, more than 40 Nigerian-born players are on the books of English clubs waiting to swell the number of top talents to have dumped  Nigeria for the 1966 World Cup champions.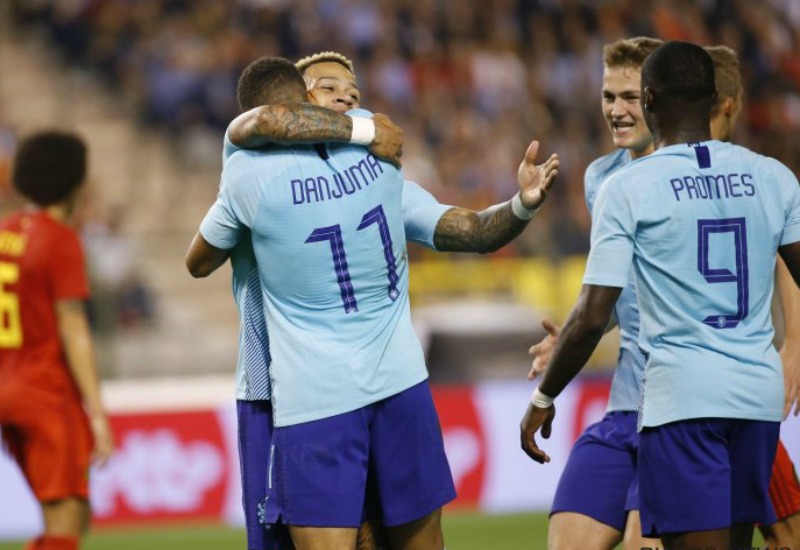 Belgium, Holland, USA, Canada, Germany and Switzerland have also had their fair of Nigerian-born players waiting to exhale with their countries of origin.
The latest target is Cyriel Dessers, the Belgian-born striker, born to a Nigerian mother and Spanish father.
Dessers is currently the top scorer in the Dutch Eredivisie with 11 goals for Heracles Almelo.
While Dessers' chance with Nigeria is more of a desire than a frantic pursuit, that cannot be said of Queen Park Rangers' playmaker, Eberechi Eze, who has yet make up his mind to grab the chance of filling in the boots of former Nigeria skipper Austin "Jay Jay" Okocha, for whom he has drawn comparisons lately.
Eze also appears to have caught the eye of England manager Gareth Southgate and could be towing the line of Abraham and Fikayo, but it remains to be seen who will win the race for his capture.
While coach Gernot Rohr, German coach of Nigeria, wishes to have Eze, Dessers and some German-born players in his squad, it's been a mixed bag of feelings in such quarters who feel the losses of wearing the Nigeria's colours outweighs the gains.
Now could this also be the reason why many have outrightly turned down Nigeria's overtures, preferring to wait for their chances with their countries of birth even when Nigeria need them badly?
Could this have also swayed the decisions of some of these players who got the passports of their adopted countries via marriage and long stay to dump Nigeria for their adopted countries?
Many have felt slighted and snubbed by Nigeria and decided to prove themselves with their adopted countries just like the cases with Togo striker Emmanuel Adebayor and Swiss left back David Alaba.
If Adebayor and Alaba could be snubbed, are there any desire and fire left in players to want to wear the colours of Nigeria?
In truth, many a player currently playing for the national team would wish they played for other countries owing to the treatment served ex-internationals in times of need.
It's sad to note that legendary Rashidi Yekini died unceremoniously without the full national honours accorded a national hero.
Former Eagles' captain and coach Stephen Keshi hasn't had any meaningful post-humous honours accorded him by the soccer authorities.
Sam Okwaraji's family has been crying for help even in the face of his aging mum's failing health and nothing has been done about it.
Same old stories with the departed Eagles' stars as less unfortunate ex-internationals are also crying a river with the authorities caring less.
Many "lost" Nigerian players have counted numerous gains for dumping Nigeria and have remained happier thereafter, never regretting their decisions.
Abraham may well have jettisoned any idea of regret for dumping Nigeria for the Three Lions.
This cannot be said of our most ex-internationals who now seriously need help and rehabilitation.
Nigeria will continue to lose a lot more talents to other countries as it were, but a lot more must be put in place to improve the lives of our ex-internationals post career to make it more attractive for those is diaspora to switch to their roots