FC Lorient new signing Terem Moffi has always made his dad Leo proud, who now tells IKENWA NNABUOGOR the striker's best is yet to come…
Leo Moffi, former Enugu Rangers goalkeeper and a lawyer isn't surprised at his son's progress and his recent move to France, according to him, is just one of things he always wished would come with time.
Terem, just 21, had a number of clubs jostling for his signature since he lifted his game to bigger things in Belgium from European football backwaters of Lithuania in January.
FC Lorient persisted in the quest for the youngster after initial bids were flatly rejected his Kortrijk maintaining Terem was a €10 million Euros-rated player.
On Sunday both sides settled for €8million transfer fee and Terem is just few days to becoming FC FC Lorient player.
Daddy Moffi has maintained a studied mien about his son's future and believes positive things will naturally happen in his son's career.
"I'm not surprised Terem signed for FC Lorient and all I can say it's just about the time God has destined it to happen," Leo says.
Leo has watched his son grow from a little boy who showed signs of pursuing a football career at seven when he took him to the Aspire Soccer Academy that had opened a centre in Calabar.
"You could tell he was focused at an early age and I was impressed.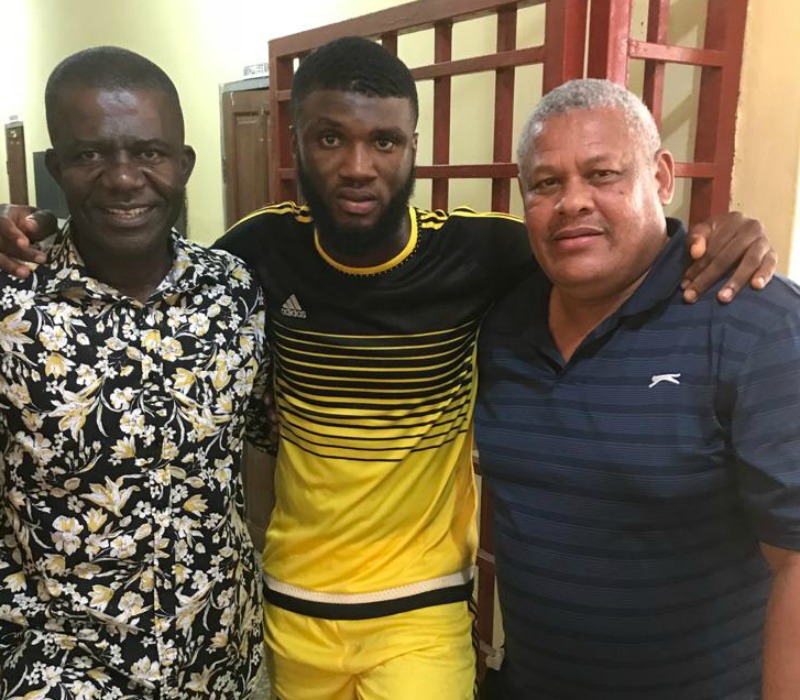 "He's always been a striker at young age and he showed what he could be at such an age by scoring.
"His fighting spirit has always been there at an early age and I must say that he's got a lot to offer to football."
His Aspire Academy days were short, but it was at YSFON Soccer Academy under coach Abdulgafaar Agboola that Terem, only 11 years of age that his development took further moulding.
"I would always wish coach Agboola's name be mentioned each time Terem's soccer stories are told," he remarked.
"Coach Agboola took him as his own son and did a lot in terms of developing Terem into what he is today.
"Terem was a very important member of coach Agboola's team and he took him through the most rigorous training ever and all these came to help him he moved abroad.
"Terem scored lots of goals for the team in many competitions that took them outside Cross River State."
Terem's older brother, who is into full-time academics, studying for a medical degree in Russia, Leo informs, is even a better footballer than Terem but chose to pursue academics.
"Terem could also have excelled in academics as his older brother because he's very sound in school," he reveals.
"Had he not chosen the football career, he would have been rounding off a degree programme at the university.
"So, you can see he's blessed both ways just like his older brother."
Leo now believes Terem would get his Super Eagles chance when the right time comes, but will not forget in a hurry when his son was dropped at the eleventh hour in the Golden Eaglets team to the U-17 World Cup in Chile in 2015.
"Terem was a member of the U17 team alongside Kelechi Nwakali, Victor Osihmen and Samuel Chukwueze but didn't make the final cut eventually," he recalls.
"He's still in their class even today and I believe he will be given chance to show what he can do.
"I would never come to the press to put pressure on any coach to select my son.
"As a former player myself, it's not right to do that, neither will I sing his praise.
"His performances will speak for himself and if coach Gernot Rohr considers him good enough for Eagles, why not?
"Like I said earlier everything in life has time and Terem will surely get his time."
Leo would relish meeting up with his good friend Chuka Nwobi, Everton star Alex Nwobi's father, when Terem gets his chance with the Super Eagles.
"I've always been meeting with my good friend Chuka when Eagles come to play and it would be nice if Terem comes on board as well," he says.
"Chuka and I have come a long way having being mates from Rangers and at the University of Nigeria.
"Terem and Alex are also friends and playing together with his friend would be great for the two families."
Indeed, Terem's transfer to the French Ligue 1 will speed up his invitation to Super Eagles to reunite with his old U17 mates.
Rohr could well be finally getting the battering ram in attack that he has so desired.