Former captain of the Green Eagles Segun Odegbami out of patriotism and frustration has been livid with anger in his last two publications on the state of Nigeria football which he titled "Football in Nigeria is dead and must be saved now" and "Nigeria football the Shame of a Nation".
Odegbami concluded his piece by asserting that "The present reality is that football in the country is at its lowest ebb.
"Going forward, the government must play a big part by changing its attitude and of necessity influencing a change of guards and structures because politics has played its part long enough (for three decades) and failed woefully".
A few weeks ago, former chairmen of the Nigeria football Association (NFA) Anthony Kojo Williams, Ibrahim Galadima as well as veteran football stakeholder Bode Oyewole all spoke in a similar manner in widely circulated interviews that our football is completely dead.
They lamented the unimaginable flagrant and uncontrollable stealing in Nigeria football, the disappearance of morals and values and how our football is now left for vultures to feed on.
But for how long do we watch Amaju Pinnick and his gang destroy our football?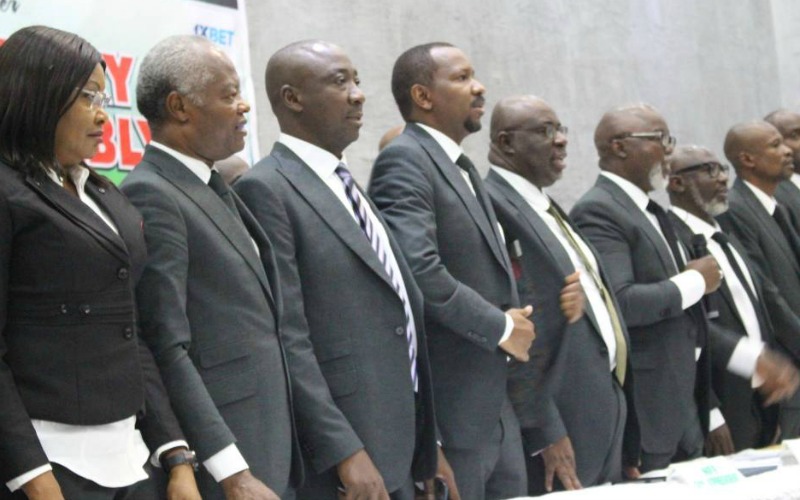 Does the Minister of Sports Sunday Dare lack the capacity to deal with the situation or he has chosen to ignore advice from these elder statesmen?
But it seems to us too that Sunday Dare has entered an alliance with the Pinnick-led NFF Board.
The NANF has attached here with a letter from the foremost anti – graft agency in Nigeria to President Mohammadu Buhari on the massive looting in Nigeria football.
In the face of all these scandals and after the November 5, 2019 arraignment before Justice Ojukwu, Pinnick and his gang cannot attempt to still hang on to office.
The NANF, which I represent, will then have no option than to organise a sit-out to occupy the Glass House within the confines of the law.
By Harrison Jalla