Napoli striker Victor Osimhen defies highly publicised family squabbles and the exodus at Napoli to keep his mission statement on track in Italy. IKENWA NNABUOGOR sees a re-energized Osimhen enjoying more glory…
It seems Victor Osimhen was waiting for the current Seria A season to get underway to show he's refused to let his fresh troubles weigh him down with his commanding performance in the league opener against Verona last Sunday.
Osimhen unleashed his power, speed and agility against the hapless hosts, scored and assisted once as Napoli romped to an emphatic 5-2 win.
The former Lille striker didn't look like one who has got a lot on his table going into the league opener as he asserted his usual all-action self and threatened and kept Verona's defence busy for 87 minutes he lasted on the pitch.
Osimhen's troubles were numerous and threatening enough to overwhelm him but he proved he could ride with his troubles and come out smelling of roses.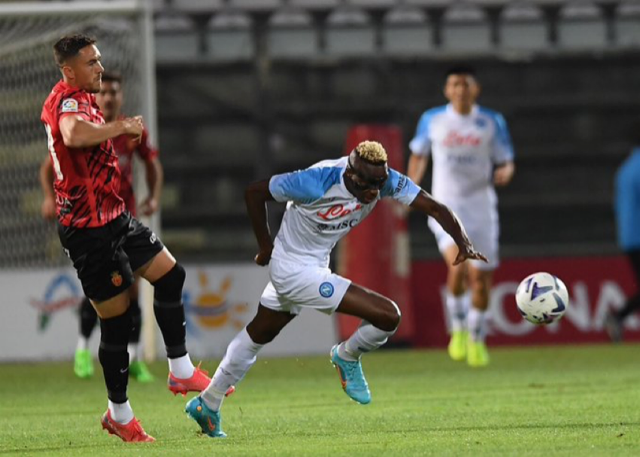 Family issues concerning money was top of his troubles after his brother-in-law took him to civil court as well as the social media court to seek judgment over monies Osimhen borrowed from him and refused to pay back.
Coach Luciano Spalleti would have none of Osimhen's troubles and sent off for dissent in a training session ahead of the new season as the controversial youngster was expected to begin the season on a shaky note with his barrage of troubles.
Transfer rumours linking him to moves to top spenders in England, France and Spain were flying in with the fees fit for a Sheikh here and there, distracting the youngster but all these seemed to energize him to prove he was worth the troubles, leaving the Verona defence with stories to tell of him.
He refused to forget the racial slurs he suffered at Verona last season and entered the pitch like a lion feasting on a hard to get prey and ultimately got his pound of flesh scoring and assisting in their 5-2 annihilation.
The Verona fans had targeted him for racial abuse when Napoli visited last season and further infuriated them by scoring Napoli's two goals in a 2-1 road victory.
He would endure the racist chants to last 90 minutes as Spalleti replaced him with Andrea Petagna.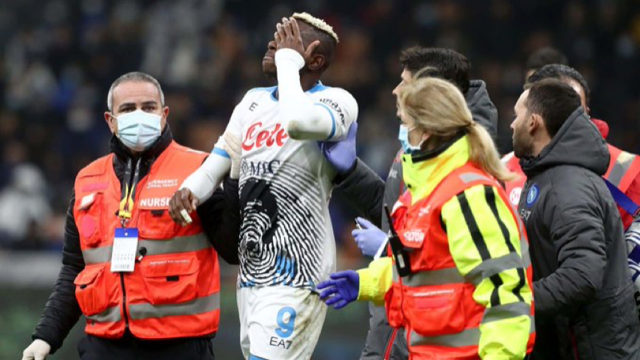 His skin was admirably thick going into the Verona game with the last season's racist experience in mind, showed no nerves deserving of a player with so much trouble and leaving the pitch earning a huge pat on the back for a good job done by his no-nonsense coach.
Spalleti has repeatedly admonished him to keep his youthfulness in the cooler and focus on the business that forced Napoli to make him the most expensive African player and it appears Spalleti's hard stance is paying dividends.
Spalleti had ordered him to take an early shower in the much publicized training session bust-up with a team mate and still started him in the league opener to show him he was just guiding him right.
Napoli also suffered some sort of player exodus, chief among whom was the shock departure of ex-captain Khalidou Koulibaly to Chelsea, leaving a team not looking like last season's to fight for honours with the current team.
Osimhen also lost a few mates in the attacking line – Lorenzo Insigne, who defected to the Major League Soccer (MLS) in the US for Toronto FC and Galatasaray welcomed Belgian star Dries Mertens, left a huge task on the young shoulders of the former Charleroi striker to handle but he was equal to the task.
He didn't disappoint as his performance proved him right as the undisputed team's live wire in the attacking line.
Osimhen got his Italian scripts well mastered since he signed the dotted lines from France's Lille and he hasn't taken his eyes off his details while also keeping his huge price tag safe despite all his troubles since he arrived.
Injuries, fines for club violations, Covid-19 issues were all his old troubles following his arrival in Italy, but he defied all of that to perform the duty for which Napoli broke the bank for his signature.
Osimhen isn't new to troubles and the fresh ones will only turbo-charge him to bring something extra for his beloved Napoli as he proved against Verona.
His gestures at Verona's fans after netting Napoli's second just before the break added to the numerous dramas Osimhen has acted since he arrived in Italy.
In truth, his balls are too large to deflate as his will power to prove everyone wrong can only be likened to greats like Napoleon Bonaparte and Mexican guerilla warlord Che Guevara.
Osimhen's Italian Job isn't appearing to lack ideas for a massive push and a biopic on his task after he would have been done with it and moved on to bigger challenges abroad could be a box office smash.
Osimhen, no doubt, is enjoying his Napoli stay and those links with Manchester United, Arsenal, Manchester City, Real Madrid and Barcelona may even look like distractions to him judging by his hunger and youthfulness on the pitch.
He hasn't begun yet, the new season has just started, Osimhen got lots to show the Serie A watchers and perhaps, he could be mounting the podium with the top scorers' award winner firmly well gripped with his hands.
Surely, his new season's debut game is a pointer to what he's got to show despite his troubles.
The big spenders could be back again, this time with tempting offers Napoli won't resist.
Watch out, he could be breaking his own transfer record fee, and between €100 million and €150 million transfer fees could be sealed, who knows?