Record signing David Okereke has wasted little time to get Club Brugge fans to forget 25 million pounds striker Wesley Moraes, who has left for Aston Villa after his goals in previous seasons.
Okereke, 21, has been an instant hit in Belgium – three goals and an assist in two league games, not to forget his display in the friendly against Sporting Lisbon two weeks ago, when he opened scoring for Club Brugge to eventually win 6-5 on penalties after scores were tied at 2-2.
On Friday night, the Club Brugge home ground, the Jan Breydel Stadium, sang his name, nine to ten times: 'David Okereke, oh oh oh oooh'.
It was the same two weeks ago vs Sporting Lisbon and last Saturday in Beveren.
A new fans' favourite has been born. And just to say not many now think too much about Wesley Moraes these days.
"Whether my family was here? No. But I have bought them a new decoder so that they can watch all my matches. (enthusiastic) In the meantime, my mobile is full of videos of how they celebrate my goals," Okereke said of his new life in Belgium.
But he and his family had to wait twice before they could really celebrate his goals on Friday, no thanks to the VAR. Each time for alleged offside.
Quite a few strikers often leave too early or stay too long when their opponents move. Not Okereke. Why would it, if you are so explosive?
Taking advantage of a poor defence, he first aimed a loose ball from Emmanuel Dennis neatly with the left foot and through the post for the first goal: 1-0.
After which the Nigerian – less than five minutes later – dashed into the box to put away a superb pass by Deli around the goalkeeper.
The Bruges legion was full of fun, while Okereke – after another green light from the VAR – sprinted down and celebrated the goal on his knees.
"However, I thought I was offside. 'You have to kick that pass faster!' I had already called to Simon (Deli, ed.). (laughs) I started apologizing afterwards. (amused) 'Forgive me, please!'," he recalled later.
From behind his laptop, Dinamo Kiev's scout had already marked him out.
All the more because Okereke is much more than a merciless sniper. Club's record purchase is also an intelligent team player, he does well at set pieces and his first ball is rarely sloppy, like his assist for Percy Tau. A great cross.
Add to that his speed, his drive, his vision and work ethics, and then you know why Club Brugge paid eight million Euros for him.
It is only a matter of time before Okereke walks around with his Golden Bull on his shirt. Like (Mbwana) Samatta at Genk, the last goal machine that coach Philippe Clement designed last season.
If it wasn't for the silly rule that the goals in play-off 2 also count towards the title of top scorer, then Samatta would have been top scorer instead of Harbaoui.
It is now up to Okereke to ensure he does it in May.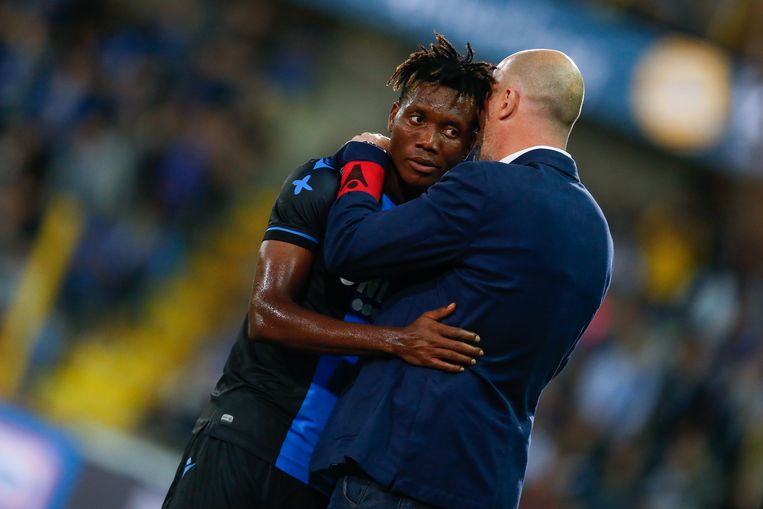 The Nigerian national team, the Super Eagles, can also not afford to overlook him. The excuse that he only played with Spezia in the Italian Serie B is no longer tenable.
On Tuesday, Okereke will make his UEFA Champions League debut as he chases his dream: to reach the group stage of the Champions League.
That was why the coach took him off against STVV after just 65 minutes. He whispered something in his ear. "I'll need you on Tuesday," probably.
The Jan Breydel Stadium rose again and worshiped their new star – 'David Okereke, oh oh oh oooh.'
They will also know him in Kiev.
Adapted from HLN