Former NFF president Kojo Williams passes a damning verdict on the present NFF executive committee led by Amaju Pinnick in this no-holds-barred interview.
The full interview:
QUESTION: Good day, how are you doing sir?
KOJO WILLIAMS: I am doing very well, thank you.
What's your take in respect to what has been happening in Nigeria football for the past five years now since Amaju Pinnick took over as NFF president? From what you have seen in the past five years, would you say Nigeria football is moving forward or retrogressing?
I need to say something before I go further – when Pinnick took over I had absolute confidence that he would make a lot of changes, but with time I found out that there was a lot of misdeeds and mistrust.
What is happening is that, with all sincerity, the standard of football in Nigeria has dropped drastically. There have been a lot of misdeeds, misappropriation of funds and so many things, even when what they have as funding from FIFA and government in the last five years no administration in football in Nigeria has ever had that kind of funding.
Are you serious?
Yes, I can tell you, that's the truth.
I need to ask you to say that again, did you say the amount of funding the present NFF board had cannot be compared with what other boards had before Amaju Pinnick came in?
Absolutely, never, never in the history of Nigeria football. The board in the past came in like Youth Corpers who want to serve. But these ones basically just went there to automatically knock off the place and they need to defend themselves, they need to come out and I don't know why are frightened and running away from facing justice.
If they truly know they are clean, they should go out and defend themselves. They should go to court.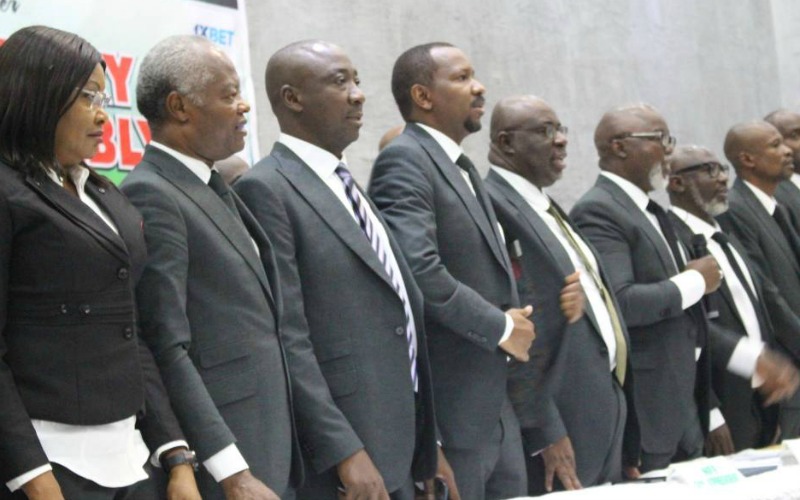 The agencies are basically saying they are investigating them, they don't need to buy media consultants to defend them because what I found out, with all sincerity, they have been misleading the public and the public has to be aware of that and the public must stand up for the truth, it's as simple as that.
You mean that media organisations have been misleading the public in terms of Amaju Pinnick and his board members issue?
Absolutely, absolutely, so the public must be aware of that. They must stand up for their right to know the truth. And the truth has to be said.
Do you have an idea of how much FIFA give to a football federation and how often that money comes to the federation?
Well, I cannot tell you off-hand, but for example for the World Cup proceeds, playing in the World Cup, for example in the last World Cup, if they had got to the second round, they would have got up to about almost 8-10million dollars and from the previous World Cup, we they got up to 8m dollars and those monies are not accounted for.
And also remember that apart from those proceeds from FIFA, the federal government also gives them money, but what they do is that they double budgeting, mix the money up and lie, the problem now is that the truths are coming out, the facts are coming out and they need to defend the accounts.
Apart from the money the federal government and FIFA give them, they also get money from sponsors.
Where did all these monies go? That's the question.
All these have to be accounted for and there must be transparency. If they can truly defend those things they have been accused for, let them come out and do it, but basically no Nigeria football administration has ever got the money the present administration are getting. That's the basic truth.
We also understand that FIFA money that was meant for developmental projects in the country, more than four billion Naira was also mismanaged.
Sixteen million dollars was misappropriated. And FIFA also noted in their records, which they kept hidden, they told them to come up with a proper record and explain how the money was spent and as a result they stopped giving them money for development because they could not account for that money.
They need to account for this money that was given to them over a period of time. All these monies have to be accounted for.
There are also allegations that the NFF collect money from different places, they collect from both federal and state governments, collect from sponsors for example, one of the retirement by the NFF is that they used millions of Naira to attend a CAF Congress in Egypt.
Let me make it clear to you – CAF or FIFA, whoever is coming to represent Nigeria, they pay for everything, air fare, accommodation and all that. All the executive members of the federation like the president, the secretary general all fly first class and CAF or FIFA take care of everything.
I was a FIFA committee member for over 10 years and we all flew first class and FIFA take care of it and they paid us daily allowances, so I don't know why they will come out now and lie that those monies are been paid by the federation or they were using money from government to pay for those things. That's very irresponsible.
Just a couple of days back the new minister of youth and sports Sunday Dare actually called a meeting of the NFF executives and after the meeting they issued a communique and many have said this is wrong that at this time when the NFF members are also under investigation, did you think that was right from the minister of sports?
It was not the right decision, one thing I want to say, I don't want to start being hard on him. I think he was not given the right advise and may be on his own exuberance, he came out to do that. But he should have also searched the fact and have far-reaching consultation before coming up with that. But most importantly you cannot come out and sign a communique with persons that are under serious investigation.
The second is that these guys are under serious investigation and it's not just about one anti-corruption agency, but three such agencies, that speaks volumes. The problem now is that every one of them, that the football house stinks.
Let me tell you, why would Nigeria be asking to host a Women's U20 World Cup when we don't even have a proper female football league?
We have poor developmental structures in this country, where our football structure is so bad including our football house. Why would they want to spend such money, why don't we use that money to develop our football?
I want to advise the minister now he should not be bamboozled that because they are now being investigated FIFA will not grant the hosting rights, that is pure fraud, that is what we call '419' in Nigeria.
Even (Gianni) Infantino (FIFA president) himself we never say that publicly, nowhere.
But Nigeria government has the right to stand and say, you know what, we have had enough of this, we have invested so much, it's high time we cleaned our house up and you know one thing, I know about FIFA when you decide we want to clean our house up, they will be ready to work with the country.
Let's sit together and restructure the game and that will do a lot for this nation.
Mr. Kojo, before I allow you to go, your final word in respect on what the federal government should do, because I also understand that the head of service of the federation has been asked to step down because of investigations in her department. What would you advise the federal government to do in respect to the NFF as well?
NFF are a total different structure, you know why? We need a reforms committee, all of them should go including the congress because the congress itself is receiving money from the stolen money, so all of them need to go. Even the LMC, that is the biggest fraud that has ever happened in Nigeria football, they must go as well because the body is another big fraud, they have used Nigeria football, they have used the funding that is meant for the game.
Mr. Kojo I won't let you come up with such allegations when you don't have the fact.
I will never say what I don't know, so please don't even tell me that. You don't tell me that. I am only telling you the truth, they need to be investigated. Everything about Nigeria football stinks, it's as simple as that.
Thank you very much for your time.
Alright take care.