The concluding part of the interview with FCT FA chairman Adam Mouktar Mohammed to mark his one year in office.
SCORENIGERIA: A standing team for the FCT were selected after a successful U15 tournament involving all the area councils. What next for this team?
ADAM MOUKTAR MOHAMMED: Yes that is the next generation of stars that will lift the name of the FCT and long when we are gone they will fly the flag.
They were the same set we used for the Bayern Munich U16 youth cup selection and they went to the finals in Lagos and a few made it into the 12-man selected to go and represent Nigeria in Munich later this year.
It was historic!
The big difference all the young talents in the FCT now can see its more of action than rhetoric…once you have the talent we will find you as we are committed to keep doing youth programmes to discover as many as possible and then our target is for a few from this set to make it into the national U17 team.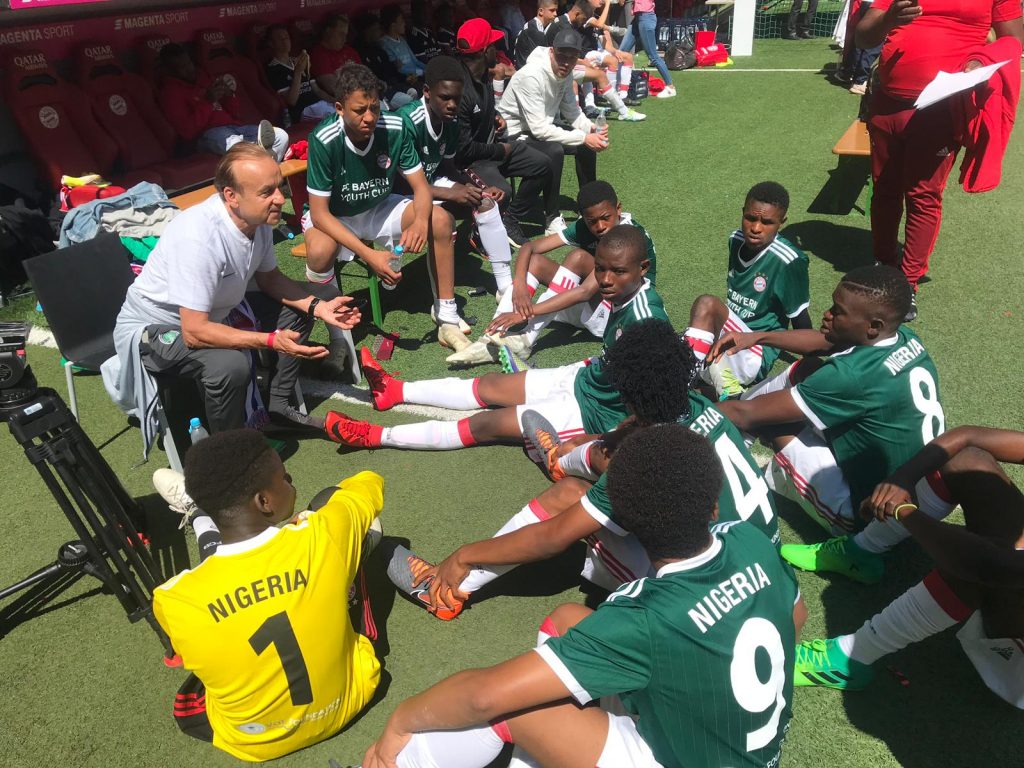 How do you plan to re-open football in the FCT when you eventually get the green light from the relevant authorities? This is especially as it concerns the Covid-19 test, which is not cheap and may not even be available.
Well we have been rubbing minds with stakeholders across the world and health experts as to how and when it could be safe, we are patient.
I know it's tough, but I ask all fans, players, coaches and other interested parties to please stay safe and follow strict safety and health guidelines in order to preserve life and remain safe.
I am confident the awareness has been created and all we need to is harmonize global best practices and experiences to find the best solutions
Lack of funds remains the bane of FAs across the country. How have you been able to cope despite this hurdle?
Yes indeed, that's true, but in any industry money follows a good product, a brand that can give it returns and visibility, so we must build it the hard way and not keep lamenting and giving excuses.
We have been very creative with keeping unnecessary costs very low, avoided too many outsourcing and have had great volunteers and as such we have done wonders with the budget we have.
The FCT FA were widely lauded for staging a most befitting league. So, how far have you gone in securing a title sponsor for this competition after the hard work that was put to repackage the FCT FA League?
Yes indeed, that has been one of the most rewarding and satisfying achievements so far… we have set the standard in Nigeria.
It was adjudged the best and we attracted a lot of media attention so much that we have been getting sponsorship enquiries, so we are confident despite the Covid-19 Pandemic setback when football resumes, we will have many partners that will want to be associated with our brand.
We will be strong on social media, we want to stream games live…the prize monies we introduced have motivated a lot of new teams to want to participate, given they saw we redeemed it instantly that has given the confidence.. I guess that's why it has given birth to a new name – Talk and Do Chairman.
The FCT FA sponsored 20 coaches to the NIS basic coaching course last year and also conducted a Bayern Munich coaching clinic. What other plans do you have to improve coaching in the FCT?
Yes, it is one of the promises I made that I will be very much keen to develop as many certified coaches as possible so that it gives them the knowledge, confidence and certification on their CV to get jobs anywhere.
Bayern Munich got new fans in Nigeria with the coaching clinic as they went away with new knowledge, they were given top quality branded kits which takes them to their localities and show off the experience.
They got the rare opportunity to meet and interact with the legendary Giovani Elber…it was amazing and once- in-a-lifetime chance!
Your administration has been commended for reducing the registration fee of 40,000 Naira for the FCT FA Cup to allow for more participation. How do you plan to still organise a credible competition despite the financial shortfall caused by this decision?
Yes, we have to be responsive to the plight and conditions of our people, we felt it was a goodwill gesture that goes a long way to show our commitment to ease the pains and burden of running a football team.
We feel if we can show this gesture it will boost the confidence in administration of football in the capital city.
We hope to make up with increased registration and participation by more teams by making it affordable.
The FA introduced Teqball during the Abuja beach soccer tournament you supported. How will you promote this new form of football?
Yes, we are committed to touch all areas of football and give balance, so that we cater and accommodate all fans and lovers of the game…not everyone is all about conventional type of football…we are committed to innovation and development in growing the game…these two achievements were truly fulfilling we got a lot of commendation across the nation.
It was a carnival-type atmosphere and our FCT team made it to the final despite it being a newly assembled bunch…we are proud.
Teqball was one of the highlights its exciting and a type of sports that is cost friendly and entertaining, also as we can't thank the embassy of Hungary Abuja enough with the technical support and how they have supported football in Abuja.
We thank them dearly and particularly His Excellency the Ambassador of Hungary to Nigeria.
We now have a strong relationship through sports co-operation.
Chairman, thank you for taking time out of your busy schedule to do this interview.
It is my pleasure.