IKENWA NNABUOGOR takes a cursory look at the romance between Belgian top side Club Brugge and Nigerian players dating back to 1990. There were highs and there were lows as well…
Belgian champions Club Brugge were unknown to football followers in Nigeria until Ranchers Bees youngster Daniel Amokachi became their first-ever Nigerian import, when he arrive in the summer of 1990 to begin a romance between the parties that have seen many players with Nigerian blood gushing through their veins don the club's blue and black colours.
Amokachi arrived the club based in West Flanders, a region known for its textiles, fresh, young, though tested after helping his country win the silver medal at the AFCON few months earlier in Algeria, and the rest, is history for the bullish Nigerian.
Amokachi, nicknamed "Da Bull" "bullied" his way out of Belgium for a princely British record at Everton when 'The Toffees' from the Merseyside made Brugges £3million richer in 1994.
But not without his much talked performances with a couple of firsts in the Blue half of the European Capital of Culture, winning himself double Ebony Shoe Awards as well as the putting the Belgian team in the European soccer map, scoring the first-ever goal in the newly-introduced UEFA Champions League in 1992.
The Kaduna-born star didn't win the league title for the four seasons he spent at Brugges, but he had done well enough for himself by netting 35 league goals in 81 games for the 18-time Belgian league champions.
He would go on to score a total of 42 goals in 104 appearances in all competitions for Brugge including the all-important first ever UEFA Champions League goal before signing off in style to begin a new life on Merseyside.
He would open more doors for Nigerian and African players to lift their careers with the chances at professional football Club Brugge threw at them, though the romance with Nigerian players has blown hot and cold since after 28 years Amokachi left.
With Amokachi, a total of nine Nigerians have worn the Brugge colours to become the sixth country behind Netherlands (29 players), Denmark (13), Croatia (12), Brazil (11) to produce the highest number of foreigners to play for Brugge.
The Nigerians who have starred for Club Brugge have shared among themselves 550 appearances and 159 goals in the colours of the multiple Belgian champions.
It took Brugges nine years after Amokachi left his sweet footprints at the Jan Breydel Stadion to find another Nigerian and it was the former junior international Aminu Sani who arrived the West Flanders side but didn't leave with the same grace Amokachi was covered with.
Joined Brugge July 1, 1999, Sani found the standard Amokachi left too high to maintain and was farmed out on loan at second division side, KFC Strombeek before leaving empty handed in 2003.
Sani only made eight appearances for the multiple Belgian champions to become the first Nigerian miss at Club Brugge.
Kaduna-born Manasseh Ishiaku returned a good cheer for the Nigerian imports and offered Club Brugge a near Amokachi replica when he joined up on January 1, 2005 in a €700k transfer from Belgian side La Louviere to remind the Brugge faithful Amokachi may not be completely forgotten after all.
Ishiaku, Kaduna-born like Amokachi, was also built like the former Everton star, strong, skillful and knew his way to goal and not long after signing the dotted the lines, he settled into his goal-scoring duties.
By the time he was sold to German side MSV Duisburg for $1m he had netted 16 times in 71 league appearances across three seasons.
Ishiaku wasn't particularly a super hit at Brugges in the mould of Amokachi and later, Joseph Akpala, but he had used the Belgian side to reach greater heights in Germany where his goals for Duisburg earned him a handful of caps with the Super Eagles.
If Ishiaku made Brugges faithful get a little whiff of Amokachi, Akpala arrived at Brugge with a massive tag as a Belgian League top scorer and was expected to shoulder their goal responsibilities a la Amokachi.
Tall, intelligent, crafty, the former Bendel Insurance and Nigeria local league former top scorer convinced the egg heads at Club Brugge to cough out a cool €3m to price him away from Charleroi on the back of his top- scorer performance to lead Brugge charge in the attack.
Akpala had netted 18 times the previous season at Charleroi to transfer to Brugge in July 18, 2008 and followed up on his superb previous season performance with 15 goals and remained the club's arrow head until he was sold to German club Werder Bremen on August 22, 2013 amidst stiff competitions from Celtic and West Ham.
Akpala never came close to equalling Amokachi's individual honours of winning the Ebony Shoes award in his four-year stint there, but he had done well enough to score a total of 56 goals in 168 games in all completions to become the first and only Nigerian with the most goals and appearances for the Belgian side.
Kehinde Fatai was a shadow of Amokachi and Akpala put together in Brugge colours despite arriving with a goal-filled stint from Romanian side Astra Giurgiu and ended his Club Brugge start before it had even begun.
Like Sani, like Fatai, both super flops in Brugge colours, would definitely have wished he had stayed back in Romania than throwing away the chance with Club.
After just eight games and a goal, Fatai fizzled out and into thin air, he disappeared from the West Flanders' firmament and returned to Astra after just one season to continue where he left off.
Mikel Agu could be seen as the biggest Brugge misfit largely due to the injuries he suffered that marred his Brugge chances since Amokachi opened the ties between the two parties in 1990 and wished he didn't leave his seemingly Portugal comfort zone to Belgium.
Agu had found a home in Portugal since he graduated from academy football in his home base of Benin City and arrived at Portuguese giants Porto in 2011 shortly after helping his national youth team to win Copa Coca Cola in South Africa but it was at their the Porto B team, playing in the Portuguese second tier, Agu really proved he was a bargain buy.
He would establish himself in the midfield for the Segunda side playing regularly but battled injury worries which also forced his early Brugge exit.
Sadly, he could only play just two games before he ended his Brugge sojourn to return to Portugal to pick up the pace again, playing in 27 league games for Vitoria Setubal the following season.
Not long after Agu was turned back with his injury worries, Club Brugge welcomed another Nigerian, the seventh in their ranks, when Nottingham Forest new signing Emmanuel Dennis arrived on July 1, 2017 to begin a romance that was sweet, bitter and controversial.
Dennis arrived from Ukraine's Zorya Luhansk with huge reputation for a youngster with a big heart and full of expectations after he was courted by a number of bigger spenders like Ajax and was widely expected to deliver.
The €1.2 million player started like a house on fire in his first season, netting seven times and followed up with same figure next season, but before he would leave on loan to FC Cologne, Dennis had courted more troubles than scoring goals in the Brugge colours, forcing the higher-ups to wait for the most serious buyers to offload him and his troubles.
But before leaving for Germany he had belted 116 appearances, making him the second most capped Nigerian at Brugge, netting 29 times.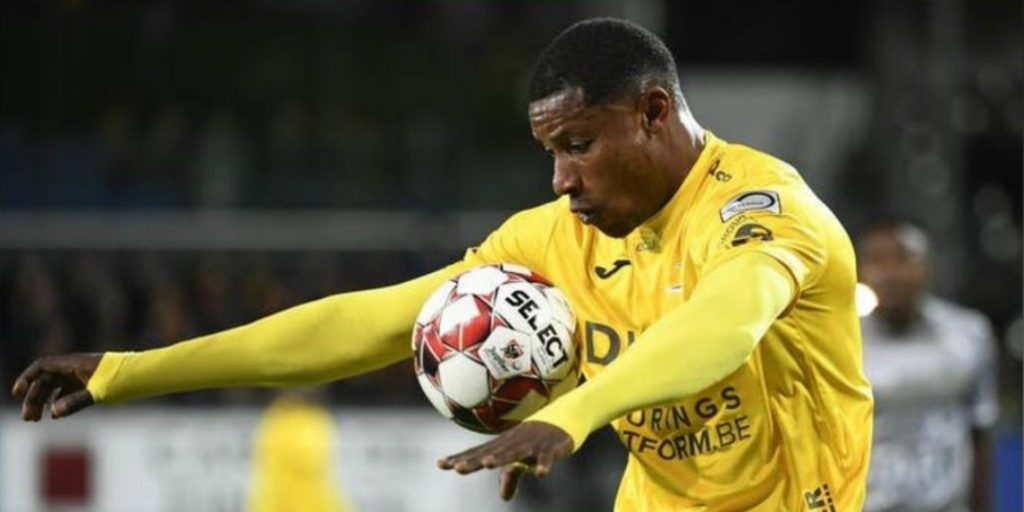 While Dennis was still doing his thing as the Brugge poster/bad boy, he was joined by another Nigerian, David Okereke, the former Spezia striker, whom Brugge had broken the bank for as their record signing with the hope the another Amokachi was on the loose.
But it would eventually turn a great investment gone wrong as Okereke forgot his scoring boots in Italy after a very impressive start that saw him score eight goals in as many games but criminally fizzled out when it mattered most.
Brugge would live to regret their €8m transfer record investment on the Lagos-born striker as he spent more time on the bench than on the pitch in his last days before he returned to Italy, first on loan at Venezia, before joining newly-promoted Cremonese on a three-year contract for a reported €10m fee.
At the weekend, Brugge signed their ninth Nigerian, the highly-rated midfielder Raphael Onyedika Nwadike from Danish side FC Midtylland for a reported €10m transfer fee on a five-year contract.
Onyedika has thus joined the fast-growing Nigerian legion that has donned the Brugge black and blue colours and it remains to be seen if he will join Amokachi, Akpala and Dennis in the hit list or disappointing as a miss just like Sani and Agu.
Only time will tell for combative Onyedika who was also courted by AC Milan before he opted for Club, where he is assured more playing time.
All eyes will now be on him to deliver the huge promise he has shown in Denmark.