The Golden Eaglets were without a doubt deserved winners of the WAFU B tournament in Ghana, which served as qualifiers for the U17 AFCON in Algeria.
The Nigerian youngsters paraded a potent attack as well as a defence that got the job done.
Skipper Precious Williams is an exciting upcoming striker, who weighed in with two goals in Ghana, and he was complimented by the lanky Kevwe Iyede, who has been compared to Victor Osimhen, and super-sub Bright Eke
Both Iyede and Eke were also on the scoreboard.
Abubakar Abdullahi Idris was the hero in the final against Burkina Faso with a brace.
He finished as joint top scorer for the Eaglets with three goals.
Jubril Azeez caught the eye with his tricky on the flanks and he can only improve.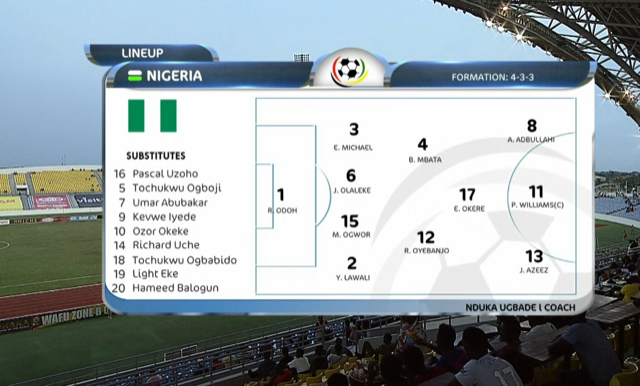 In defence, midfielder-turned-leftback Emmanuel Michael underlined his class with three free kick goals and a superb assist in the final, while goalkeeper Richard Odoh was smart and confident all the way to the championship game.
Big central defenders Jeremiah Olaleke and Miracle Ogwor were shaky, but in fairness to them they brought their 'A' game in the final against the bigger and physical Burkina Faso.
There would be need to bring more competition in this department.
In midfield, the creativity and enterprise of Ebube Okere was evident in a 4-3-3 formation, while Basil Mbata and Raphael Oyebanjo will have to step up.
Long-time assistant coach Nduka Ugbade made the most of his first time in charge of the team to boost his already impressive CV.
His latest achievement is the more commendable as he had to prepare his team in less than six weeks during which he had to screen several thousands of hopefuls.
His team will be one of the favourites at the U17 AFCON particularly after they topped a competition that featured Ghana, Cote d'Ivoire, Burkina Faso and Niger, who have done well beyond Africa.
But even though the Golden Eaglets have won the U17 World Cup a record five times, the last time they won the AFCON at this level was in 2007 in Togo.
The main target in Algeria will be to qualify for the 2023 FIFA World Cup in Peru in October and they can achieve this by reaching the semifinals of the eight-team tournament.
But knowing the drive of task master Ugbade, he would very much push for his Eaglets to fly to Peru as African champions as well.