GOATS are not only limited to best scorers, such honour should be extended to the passers of the ball as well, IKENWA NNABUOGOR recalls the ball players who make things happen with that sublime pass…
Ball passing is one innate quality that distinguishes a very genius few and so much respect should be accorded them because they always bring something extra to the beautiful game.
Quite a few got this special talent to add more fun to the beautiful game that has attracted more followers than any other sport.
Countries have always had their fair share of great ball passers that the entire team will always rely on to win games and add trophies to their cabinets.
Nigeria, of course, have been lavishly blessed with the passing best, but a few have distinguished themselves to grab their well-deserved full honours and by extension, accolades to their fatherland for their well-spent sweat.
One player who would always come to mind even to a recent football follower in this passing game is former Super Eagles captain Sunday Oliseh.
The holding midfielder, undisputed number one ball passer in history of the beautiful game in the midfield department, brought a passing game to the national team which forced former coach Clemens Westerhof to bow to media pressure to add the young midfielder to the Eagles ranks as the team battled to hit USA for the World Cup and Tunisia as the AFCON drew closer.
Westerhof was not disappointed with the media choice and by extension, the fans, who fell in love with the smart midfielder on his debut game against Ethiopia in 1993.
Oliseh brought his passing skills on that fateful Lagos evening as he reveled in freeing late superstar striker Rashidi Yekini to help himself with a hat-trick as the then RC Liege upstart inspired a 6-0 goal-happy night for his country to finally land in Tunisia for the 10th Africa Cup of Nations.
Oliseh had done well enough to convince Westerhof and his men in the dugout he was worth many more look-ins, as game after game, Oliseh preached his beautiful passing philosophy he brought unsong from Belgium.
By the time the ticket to the AFCON final in Tunisia had been bagged same year (1993) after for which Oliseh conspired to slay the hapless Ethiopians with his mates, and even found time to help himself with a goal, Oliseh had become the master of the passing game he had come to master with a very short time with his national team.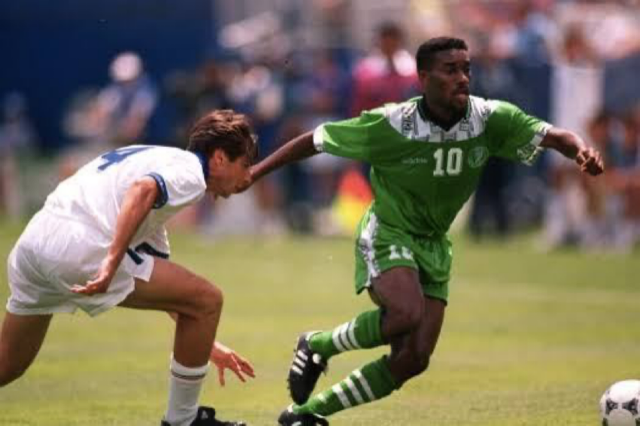 Yekini continued to receive precious gifts from his renowned Cannon fodder of a passing midfielder and gleefully returned the favour from Oliseh to open the scores against Gabon in the finals' opening game, netting twice in the sweet 3-0 victory.
For Oliseh, it was one great AFCON debut to remember, as he gradually warmed into the hearts of every stakeholder of football in the country whose backing kept things moving for him.
It was a double package for Westerhof as his new protege's holding midfield and passing skills came in flowing mouthwatering gifts as his long and short passes were as legendary as they were daring and defence splitting.
He would "pass" his way to the top from modest Belgian side Liege became too small for him and bigger challenges in Italy were some of the bargains of his romance with the national team.
Oliseh preached his sweet passing game to the Serie A side AC Reggiana at a time when African foreigners in the apex Italian league were in very short supply.
Combining his duties of midfield grafting, back four shielding and passing the round leather for strikers to make hay both for club and country didn't really come with so much sweat.
If his sweet Yekini tee off against Gabon at 1994 AFCON was timely, his visionary 45-metre pass freeing Julius Aghahowa for the much-needed equaliser against Senegal at 2000 AFCON was necessarily important and crucial to save millions of crying eyes from imminent disaster before the stunned home fans.
Austin 'Jay Jay' Okocha was an astute passer of the ball, but was better known for his showboating tricks and dead ball situations that attracted more accolades than hard knocks from critics.
The former Super Eagles captain was a great leader of men who led by example on the pitch, demonstrated he could be one of the best passers of the ball in the world but chose to entertain the public to get the job done.
His accuracy and consistency may not be as pleasing as Oliseh's, but he was also a Pass Master when he chose to be.
To many a follower, Okocha's best in the beautiful game wasn't in the passing department, but when he wanted to get into the passing game, he was outstanding.
In truth, Jay Jay mastered passing, but would prefer to spend more time on the ball than releasing it and freeing striker to make hay, attracting less eyes to that sweet part of his career.
Nwankwo Kanu should arguably rank as the best passer of the ball in Nigeria, but opinions will surely divided between him and Oliseh.
Wittingly intelligent with incredible ball sense, the former Arsenal striker mastered the art of passing as he demonstrated in his illustrious career that saw him capped 86 times by his country.
His overall ability was never in doubt even as an upstart in Owerri, where he started as a schoolboy at Holy Ghost College, Owerri, but it was at Iwuanyanwu Nationale the world began to behold one of the most African decorated players and the Golden Eaglets helped paint his success roadmap in beautiful rainbow colours.
Physicality was never part of Kanu's attributes, he definitely didn't need it, he was frail looking, languid but his passing skills were direct from God and he knew when to thread his trademark telling passes.
Kanu's game was 95 percent brain work and had very little to give physically and his passes constituted the major part of his brain techniques, while goal scoring and assisting completed his supreme ball sense.
What about his "half goal" pass he threaded into the oath of John Utaka in the famous Eagles 2-1 win over bitter rivals Cameroon at Tunisia 2004 AFCON?
Or was his pass to Victor Ikpeba to make hay in his country's 4-2 win at 2000 AFCON used as a TV product commercial?
So sublime Kanu with his passes that he was named twice, became a Champions League champion at Ajax, a crowd favourite at Arsenal, England FA Cup winner at Portsmouth and signed off ultimately after some swansongs at West Bromwich Albion.
Friday Ekpo is another astute member of the Nigeria Football pass hall of fame and the diminutive midfielder's general passing skills could be better adapted into a biopic.
Ekpo needed nothing to prove again at the local scene, winning everything with the defunct Abiola Babes and Leventis United and a bigger platform with the national team proved a massive step up for the exciting smallish midfielder.
Westerhof conspired with his new young blood 'Jay Jay' Okocha to end Ekpo's romance without a notice, but his sweet passing game he brought on from Leventis United still remains a reference point till date.
Ekpo's sins never had anything to do with his ability on the pitch, but Westerhof welcomed a younger and faster heir and made him a king without being a prince and Ekpo retired to club football that also took him to Gabon.
When Ekpo was not passing, he was standing behind the ball conjuring magic on dead ball situations as well as popping up in the dead to kill off a game.
Back to the present Eagles, Everton star Alex Iwobi isn't really reminding soccer fans about his outstanding uncle, Okocha, but you cannot wish away his exquisite passing skills for both club and country.
Not known to possess his uncle's breathtaking all-around skills, the former Arsenal ace is surely rewriting his own story with beautiful passes that have freed many a team mate of his enroute to scoring and winning games.
Gradually taking his place at Everton with five assists in the Premier League this season and becoming manager Frank Lampard mainstay in 'The Toffees' defence, Iwobi has consistently returned the favour assisting in goals as the Merseyside side continue to find their rhythm blowing hot and cold in the English Premier League.
As ailing and visionless as Eagles midfield has appeared since Mikel Obi and Victor Moses called time on the national team, Iwobi occasionally lights it up with his telling passes and general awareness in the midfield.
He may not be in the class of Oliseh, Kanu and his uncle, Okocha, Iwobi has proved time and time again he could make a little difference with his timely passes that have not gone unnoticed.
At 25, Iwobi is in his prime and improving with every passing game and before he hangs up his boots, he should have taken his passing game to an even higher level.