There are those who would snigger about Umm Salal of Qatar midfielder Moses Orkuma getting a chance with the Super Eagles, but IKENWA NNABUOGOR thinks otherwise…
Should everyone turn a blind eye to Moses Orkuma's breath-taking performances in the Middle East for Qatar's Umm Salal, Super Eagles coach Gernot Rohr ordinarily shouldn't be among them, judging by what the former US Monastir of Tunisia star has achieved thus far.
The media should be alerting Rohr that the former Lobi Stars' midfielder is worth a look-in especially now that opponents have almost completely shut Eagles out in the midfield, at least, judging from the last four games Eagles failed to impress.
Orkuma's consistency since his days in Tunisia should come in handy now the Eagles have struggled to exorcise the ghosts of former captain John Obi Mikel and Russia-based star Victor Moses, who have called time on their Eagles journey.
Eagles midfield appears the only missing link in the team and sadly, has been at their mercy of fast opponents, as Eagles engine room struggles to fire lately.
Orkuma may be playing in Qatar, but his magical displays in the middle for his Qatari side must not be wished away and a chance with the Eagles could breathe a new life in that department and get it going again.
The former Flying Eagles star is no doubt his side's distribution box in the engine room and even drops so deep, leaving watchers in confusion if he is also playing in central defence.
Where does he get such energy?
Orkuma stores so much energy in his tank and it appears he's playing the midfield alone and still find enough power to venture up front in search of goals.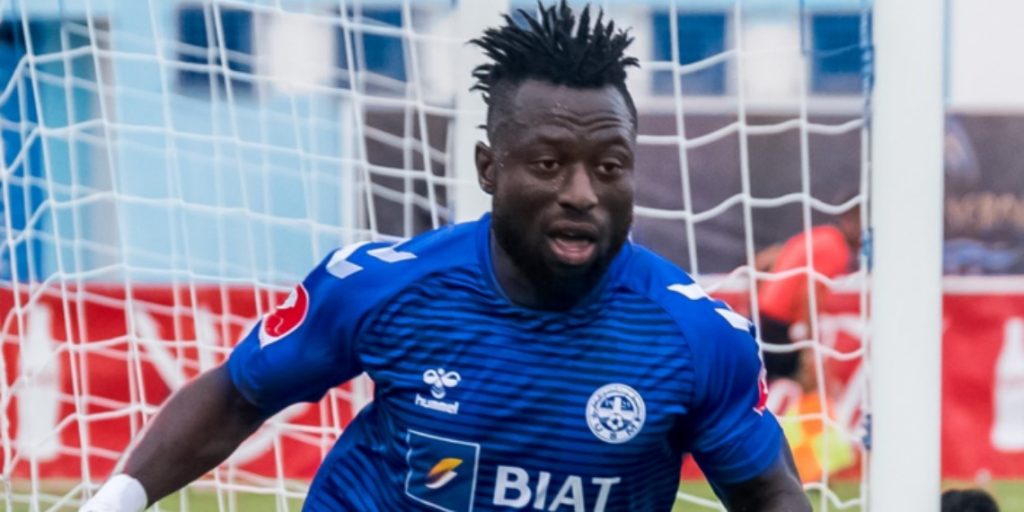 It's argued that the best legs most times are in Europe and Orkuma's chance with Super Eagles may appear to be slim, but Nigeria's loss could be Qatar's gain judging by his superlative performance and general awareness, should Qatar take the huge chance on him.
Qatari League's standard is nowhere near the big leagues in Europe, but special talents also ply their trade outside of Europe and Orkuma belongs to this class.
But in truth, does where Orkuma play matter in terms of general performance as the Eagles continue to struggle in the middle?
In as much as that would play against him in his quest to play again for his country, this 26-year-old is in the form of his life and Rohr cannot wish away such especially now that he is frantically looking for solutions to Eagles glaring problems in midfield.
A quick chance won't be too much for the asking as Orkuma has doubted all Thomases by matching his long sought Eagles chance with assured performances even from his Tunisia days.
Eagles have reaped heavily in the past from players in the Arab nations as the players like Emmanuel Amuneke (Egypt), John Utaka (Qatar), the trio of Garba Lawal, Julius Aghahowa and Obinna Nwaneri from Esperance held the down their places in the national team and then flew over to Europe for greatness.
Orkuma will also not disappoint.
Smart money will be on him to bring something extra in the ailing Eagles midfield and on to greater things.
His romance with the Arabs is age long; Tunisia's Etoile du Sahel grabbed him soon after he was done with the Flying Eagles after the 2013 FIFA U-21 World Cup in Turkey, but it was at the giant-killing US Monastir that the world finally took notice of the brilliant midfield machine.
Orkuma, his compatriot Anthony 'Black Panther' Okpotu and Monastir did the unthinkable last season by helping the modest side to win the Tunisia FA Cup for the first time in their history, breaking the almost endless grips of Tunisian powerhouses of Esperance, Etoile du Sahel and Sfax on the cup competition.
Both grabbed offers in Qatar about the same time and together they are flying high and waiting on the big move to Europe.
Orkuma's financial future is seemingly secured and a move to Europe will still bulge his bank balances and a deserved chance with the Super Eagles could make this happen for him.