The big summer signing of FC Lorient, the bomb of this Ligue 1 season has exploded in Morbihan and he is called Terem Moffi.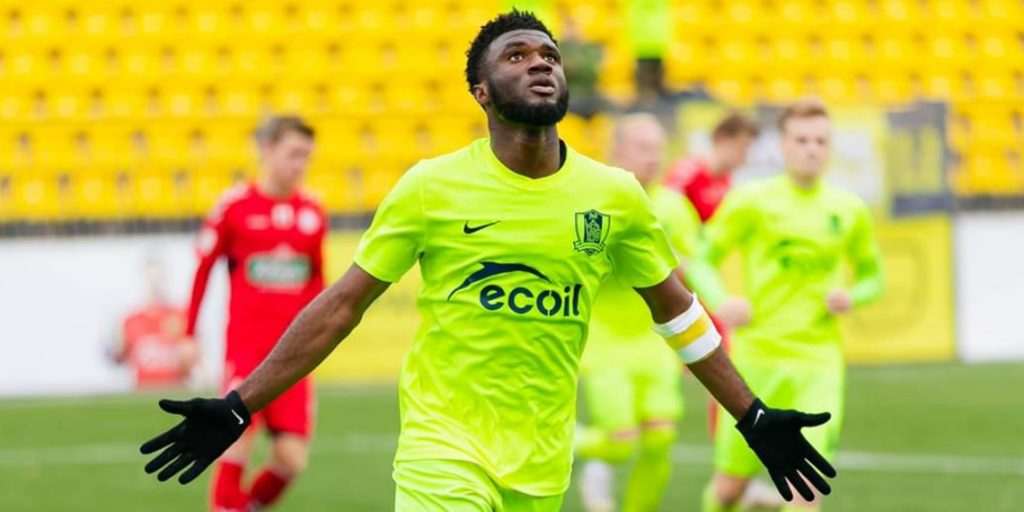 This is the journey of a player who spent a long time under the radar, who cut his teeth in Lithuania and has already completed a short tour of Europe at only 21 years old.
We do not know if FC Lorient's comeback in Ligue 1 this summer was accompanied by the discovery of oil deposits in Morbihan lands, but it is clear that they have profited even without dealing on the market. Two arrivals have particularly increased the budget of Loïc Féry: Adrian Grbić, arrived from Clermont for nearly 10 million Euros and Terem Moffi, landed from Kortrijk (Belgium) at the end of the transfer window for eight million Euros.
They were Ligue 2 champions who several top clubs beat in the offseason, the Austrian Grbic seemed to have the cards in hand to win for this team.
But it was the Nigerian, whom no one had really heard of so far, who got everyone to agree by pushing Grbić on the bench to become a regular starter of Christophe Pélissier's starting eleven and so far banging 14 goals for his first season in one of the five major European leagues.
The months of January and April were out of the ordinary, Moffi dedicated a famous victory over champions PSG to his family, fired braces at Monaco and Olympique Marseille, then a hat-trick against Bordeaux and, at the end, Ligue 1 survival is now on cards for this team.
Nobody really expected such success, when the left-footed striker landed from Belgium with his main line on the CV being five goals in two and a half months of Jupiler League.
Nobody, except perhaps the sports director of Lorient, Christophe Le Roux, as well as his scouts:
"We discovered this player, and we watched all his matches," recounted the former attacking midfielder Stéphane Pédron, now a member of the FCL recruitment unit.
"Unfortunately, with the coronavirus, we were unable to travel to see him live, but a lot of video work was done. Even going to meet him in person was not possible.
"We went through his matches well, and we were convinced that he was the player we needed. He had not played many matches in Belgium, but sometimes you have to know how to take risks, there is always a part of doubt. "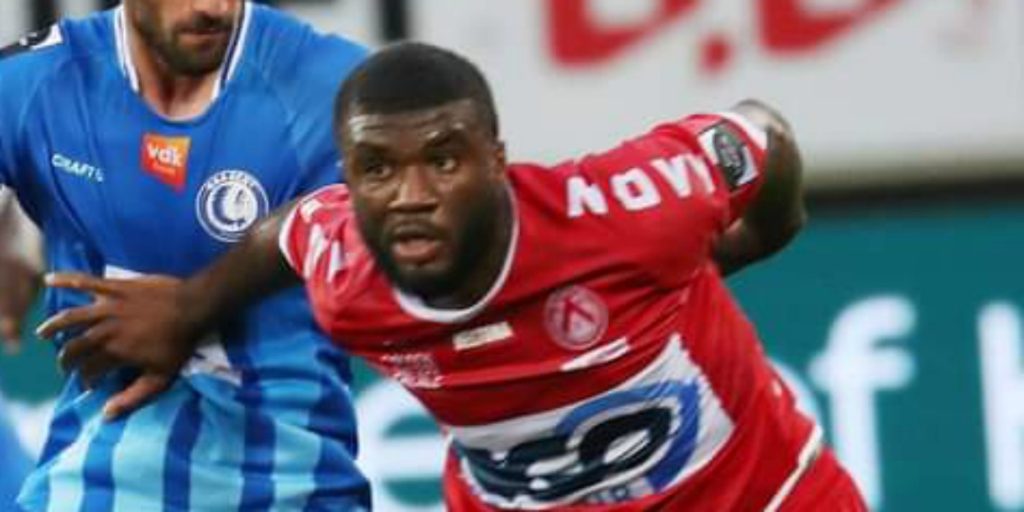 Doubts, this is also what accompanied his coming to Kortrijk – after a failed trial at Excel Mouscron – in January 2020, from Lithuania where he had taken his first steps as a professional.
Teammate in Belgium, Larry Azouni, admitted these doubts when Moffi was obscure in a friendly at VVV Venlo (Netherlands) two days after he signed for Kortrijk.
"We were wondering with the other players, because Kortrijk are recruiting a lot of young players in leagues like Sweden, Lithuania or Romania: we don't really know what he was capable of, and there have been a few flops.
"But the week after in training, we understood that he was going to do us good. What struck me was his composure in front of goal. During a short game in training, he had set the same goal four or five times: flat foot, left foot, small net. A bit like Thiery Henry, but on the other side. This one is really special."
Above all, the striker puts himself in the legend of the Golden Spurs Stadium a few weeks later with a solid performance against champions Club Brugge. It was his third match for his new club.
"We were losing 2-1 at half-time, the coach decided to bring him in, he replaced Mboyo, whom Moffi considered his big brother in Kortrijk. Two minutes later, he made an incredible action against a defender who weighs 100 kilos and is known in Belgium to be very difficult to beat ( the Ivorian Simon Deli currently at Sparta Prague, Editor's note).
"He makes a run from midfield with the defender on his back, and ends it with a left strike. He did not come out of the first team after that, he had gained confidence."
This self-confidence, the kid has gradually gained since his childhood in Calabar, a Nigerian town where he touched his first footballs in the street, and grew up in the heart of a Pentecostal family, but also football fans of Chelsea
"The only one who hasn't played (football) is my mother, but she reads the game well," Terem Moffi says .
 Father Leo, now a lawyer, is a former pro goalkeeper who has traveled through a slew of clubs across the country: Black Cats FC in Ogoja, Vasco da Gama FC in Enugu, El Kanemi FC in Maiduguri, Calabar Rovers FC and finally Enugu Rangers FC.
He came through with Chuka Iwobi, father of Alex (Everton) , but also the great Taribo West , then in his early days.
"Terem's decision to become a professional footballer has nothing to do with my career," now says the father.
"He was a child who very early on showed rare qualities for football. I am not surprised by what he has shown so far, I saw it in him when he was only three or four years old.
"He grew up in an environment where virtually all little boys played soccer. His two older brothers were also good footballers. One of them might even have been a better striker than Terem if he hadn't decided to go to school, and if he wasn't a doctor today. "
After training – between his eleven and seventeen years – at the Clique Sports Academy in Lagos, the largest city in the country, the son received a little help from fate allowing him to set course for Europe shortly before coming of age.
Thanks to the friendship between fathers Moffi and Iwobi, Terem is taken up by the agent Emeka Obasi, who gets him a scholarship to the Buckswood school – in the south of England, whose football team already has its small reputation.
"They were four young people who came together, so they were friends," recalls Giles Sutton, the director of the school.
"This whole experience was new to them. I think the hardest part was getting used to the English food. "
Across the Channel, Terem graduated in business management " obtained with good grades, " continues Sutton, who has fond memories of a "humble and kind" Terem .
It is also thanks to him and his team that the Nigerian and his three friends were able to fit into the mold, at the end of their studies:
"They did not have a lot of money. But at the time of graduation, it was important that they graduated the same way their classmates did, so we went to buy them costumes. They were very well educated and would never have dreamt of asking for anything. "
Terem, the lazy midfielder, becomes a supersonic striker, stays a year at this school, scoring a lot of goals that will open the doors to professional football.
"Terem couldn't do even the simplest physical exercises like push-ups. Like many young players, he had a poor finish," recalls Darius Šinkūnas, who saw him at work at Kauno Žalgiris
And he will pass through Lithuania for a first experience at FK Kauno Žalgiris, bottom club in the first division then.
"Our new assistant coach Alex McCarthy was working with him in England and when he arrived in Kaunas he wanted to take Moffi because he knew him well," explains Darius Šinkūnas, club team manager.
It was an unknown land for the player, forced to search Google to find out where he had set foot on.
"He had never heard of Lithuania," testifies his father.
When he landed east of the Baltic Sea in August 2017, Moffi was very far from Ligue 1, and not only in the literal sense.
In the second largest city in the country, mayonnaise does not set. Long cocooned in Buckswood, the Nigerian is struggling to get out of his nest.
"He seemed a little scared, some household chores were extremely difficult for him. For example, preparing meals. He had to be taught to live on his own, " Šinkūnas continues.
"He arrived here in very poor physical shape. In the first few workouts, Terem couldn't do even the simplest physical exercises like push-ups. But over time, his special physical qualities became visible. Like many young players, he had a poor finish. He did not stay here in Kaunas, as his agents promised to take him to bigger clubs.
"With only one goal in eight appearances (and not the slightest success), his record in Kaunas was not great.
And this is only the beginning of the quagmire, which will take on an international dimension:
"He had no contract beyond the end of the season," says Leo Moffi. "His visa was expiring, so he had to return to Nigeria to get one and go back to Lithuania, where FK Riteriai wanted to sign him. But Lithuania does not have an embassy in Nigeria. He therefore had to travel to Cairo, Egypt, to apply for a visa at the Lithuanian Embassy.
"But the Egyptian visa was not granted to him. He eventually traveled to South Africa, where he was finally able to obtain a Lithuanian visa from the embassy. It was a very difficult time for him and the rest of the family.
"Did he want to give up? Certainly not ! " For more than a year, the striker no longer stepped on the pitch because of these problems, but finds this point of fall in Riteriai, still in A Lyga where he still managed to leave some good memories.
"The last game I played with Kaunas was against this club. And it turns out that I really had a great game. Back in Nigeria, I received a message from the club's sporting director on Facebook saying that they were looking for a player like me," he explained.
"On weekends, we often went to the movies. I always gave him a smile and morale so that he was free in his head, I can say that my presence helped him a lot morally," says Lajo Traoré, his roommate in Riteriai
This white year gives the fangs to Moffi, who reappears on Lithuanian grounds in March 2019.
"He arrived with the intention of reviving and proving what he was capable of in a championship where he had been in failure" , notes his ex-teammate Lajo Traoré, delighted to see an African player join him at the club based in Vilnius, the capital city.
In shared accommodation with the Ivorian, the left-sided striker finally comes into his element.
"I was cooking for him. When we finished the meal, we would take a nap, then we would start playing PlayStation in the evening. Well, I was the strongest," laughs Traoré, a midfielder currently without a club.
"On weekends, after games, we often went to the movies. I always gave him a smile and morale so that he was free in his head. I can say that my presence has helped him a lot morally, but also on the pitch."
And the stats do not lie: in 29 appearances in the league, Moffi scores 20 times and even discovers the joys of a first qualifying round in the Europa League (lost by little facing the Faroese team of KÍ Klaksvík).
After the revelation in Lithuania, the confirmation in Belgium and the explosion in France, the logical continuation in the progress of Terem Moffi is now with the national team of Nigeria.
The striker, who will clock 22 on May 25, has yet to be capped at international level after he was dropped at the last moment – for his friend Victor Osimhen – from the team that went on to win the U17 World Cup in Chile in 2015.
Super Eagles coach Gernot Rohr is ready to correct this anomaly: "I put him on my list at the end of March, but he could not come due to travel restrictions. He is very close to the selection."
These words must be music to the ears of the striker.
"He dreams of playing for Nigeria at the World Cup," reveals his dad.
"He believes that if his career follows the right path, playing for the right clubs and with the right coaches, he can become the African Footballer of the Year and win the Golden Ball."
After all, the last bold people who took a chance on him have not regretted it.
BY FÉLIX BARBÉ AND JÉRÉMIE BARON