Big Leonard Moffi was a confident and an assured pair of safe hands between the posts in his days with Enugu Rangers, Vasco da Gama, El Kanemi Warriors, Calabar Rovers and Black Cats of Ogoja.
His father, Gregory, was a left winger who featured for Ogoja Rangers and was even nicknamed 'Okere' after Nigeria international of the 60s Titus Okere.
'Leo' was good enough to play alongside Super Eagles defender Taribo West as well as his best friend and fellow University of Nigeria law major Chuka 'Mehalla' Iwobi, the father of Everton forward Alex Iwobi.
The pursuit of a career in law – today he is the permanent secretary in the ministry of budget planning – meant he did not take his football overseas after 12 years in the Nigeria league even though he underwent trials in Belgium in 1988.
You could now say he is again living his dream through his son, Terem Moffi, the KV Kortrijk of Belgium striker who turned 21 today.
Terem Moffi is a left-footed little Drogba who went through England and Lithuania to get to Belgium, where he scored four goals since his arrival in January before the league was discontinued in March no thanks to the Coronavirus Pandemic.
HLN picked him among the top 10 players across Europe to watch when the transfer window reopens.
"Moffi) has been one of the revelations in our league since his arrival in January – thanks in part to four goals in seven matches. Signed a three-year contract with KV Kortrijk, but he is closely monitored by the top clubs anyway," HLN predicted.
A friend of his mother Margaret dreamt of the boy being mobbed by fans in Europe even before he opted to make football a career.
"Terem started as a midfielder, he liked the ball at his feet, but was not ready to tackle or do the dirty work. He also lacked aggression," Moffi senior recounted.
"As early as when he was three, four years, he was already playing football with purpose and a good technique.
"Football came to him so naturally even that early."
His older brother, who is now a doctor after medical school in Russia, would probably have been a better striker because he was much more aggressive, while Terem was more skillful.
Terem, which means peace in Ogoja, played for hosts Cross River State in the football final of the 2012 National Youth Games.
They lost on penalties to the bigger-looking Niger State team after they had beaten them 2-0 in the group stage of the competition.
Two years later, he was picked in the MTN Scholars' programme after he scored a hat-trick on the final day. But he chose not to follow up to the final selection in Lagos, which offered college football scholarships in the USA.
In 2015, coach Emmanuel Amuneke chose only Victor Osimhen as his centre-forward to the FIFA U17 World Cup in Chile as Terem was dropped on the eve of the team's departure to the competition.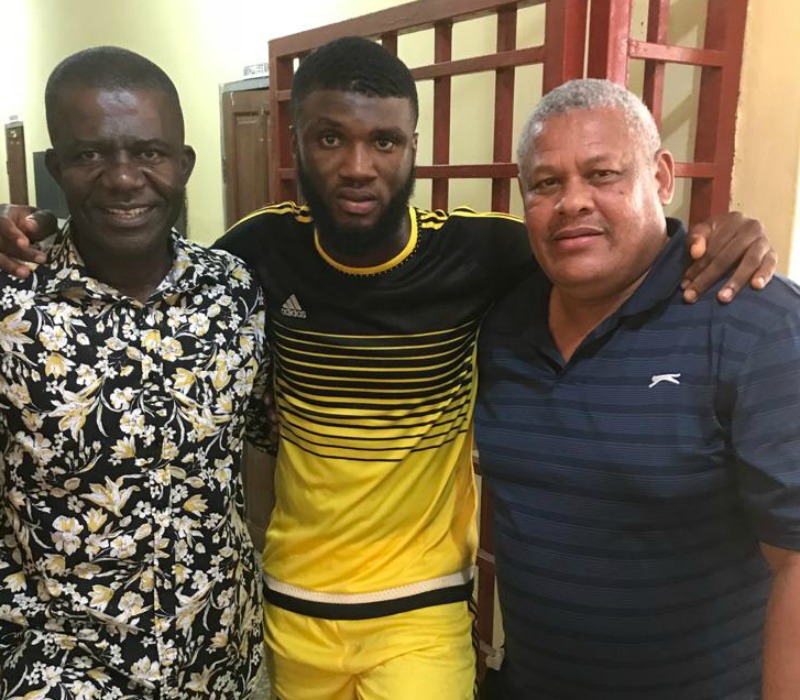 "I was disappointed he didn't make the final squad even when there were strong indications he would," said Leo Moffi.
"But at the same time I was proud of him and I told him so.
"He made the provisional squad of 35 players and even though it would have been great for him to be at the World Cup, that is not an end in itself."
This disappointment will rank with when he had to wait more than a year before he got an entry visa to return to Lithuania to join Riteriai FK.
"He was home from November 2017 and January 2019. It was a very difficult time for him," recalled daddy Moffi.
"He stayed strong and trained so hard that when he finally got to Lithuania, he was a fit, young bull ready for the fight."
Twenty goals in a year in Lithuania later, the young Moffi had fought his way to Belgium.
KV Kortrijk gave him a contract for three and half years after another Belgian club, Mouscron, did not sign him after a week's trial.
Moffi senior told SCORENigeria that his son's self-belief has since shone through as his biggest asset.
"It's obvious that he is powerful and has a good technique," he remarked.
"But what I have now discovered is his amazing self-belief.
"When Mouscron said they will not give him a contract, he told me that's their big loss."
The long-time chairman of Cross River YSFON has also fought against age-cheating using his son as an example.
"It has never crossed my mind to cut his age," he explained.
"I did not reduce my age when I played professionally.
"When Terem was with the national U17 team prior to the 2015 World Cup, he was 16 and very much within the age bracket.
"You do not have to reduce your age to fulfill your potential."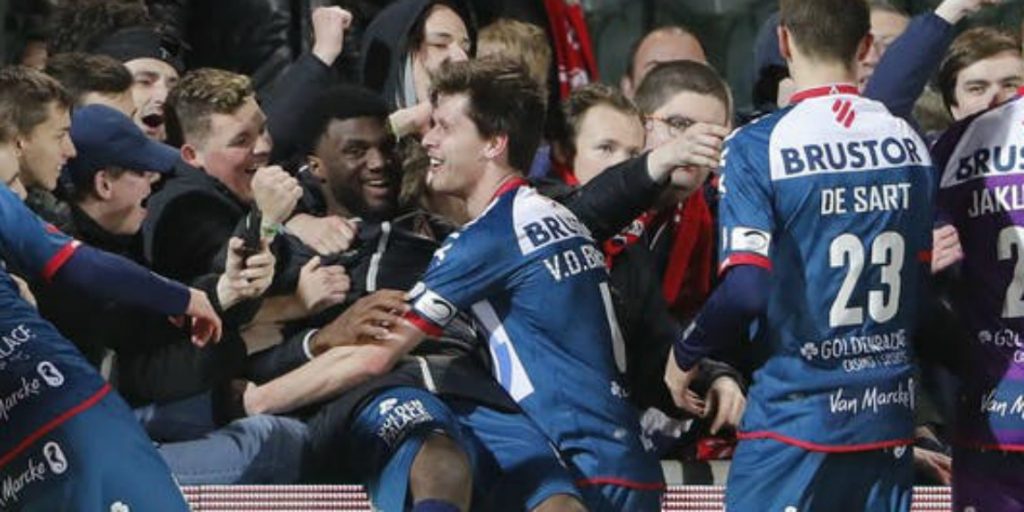 He revealed that after all the goals and glory, he will forever hold dear the commendation Terem got from the principal of Buckswood School East Sussex, England.
"He is an excellent student and a real credit to you and his family," read in part the testimonial, which occupies a pride of place in his bedroom.
"He attends every lesson and is well liked and respected at college by students and parents alike.
"One thing is for sure – he will have an academic career at university if he doesn't make the grade at football, but the way he plays football that shouldn't be in doubt either!"
What does Moffi now hope for his boy?
"It is important that at this stage of his career he plays regularly. That will help his development," he said.
"Thereafter, I hope he could play for a top club in France or Spain."
It's a proud father's dream for his boy, who today has come of age.