Prolific striker Simeon Nwankwo speaks on a wide-range of issues after another record-breaking season in Italy.
The full interview:
QUESTION: I want to start by imagining a little Simy. Tell me about growing up in Nigeria, in particular Onitsha.
SIMY: My childhood in Onitsha was beautiful. I miss it so much because it is my land. Also, my family and all my friends are there.
When was the first time you kicked a football?
I was little, I was maybe four years old. I started playing at home, outside, everywhere. Every time. I always wanted the ball between my feet. My father said I was sick from this game. It didn't take much to give birth to my passion, or rather obsession, for football.
Your hometown team, the Portuguese league and then Crotone. Why did you choose Crotone? If I'm not mistaken, you had other offers but you rejected them …
In Onitsha, I grew up as a person, in Portugal as a player. I understood what it means to be a professional, a fundamental and important step for me that gave me the opportunity to come to Crotone in 2016.
How can you say no to Serie A? One of the best leagues in the world and the toughest.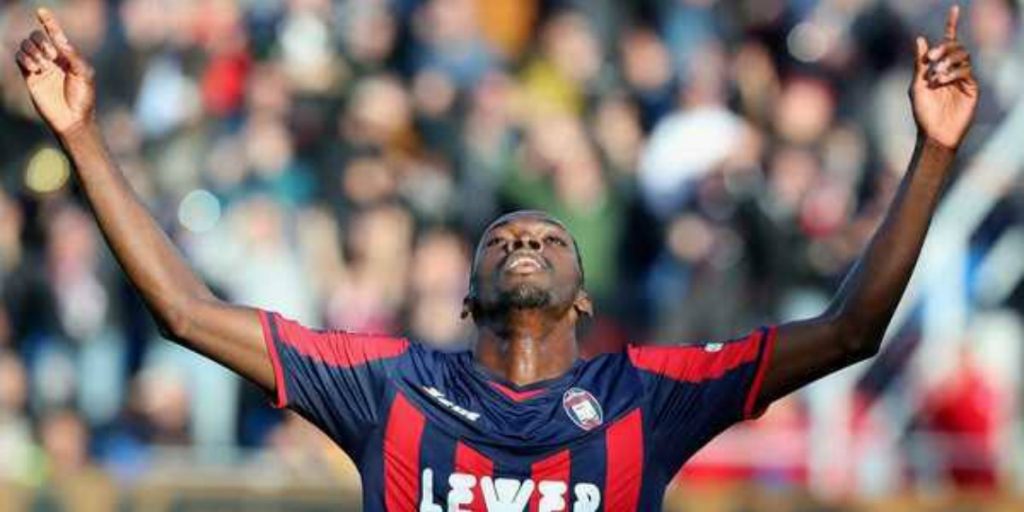 Speaking of Serie A, even your idol played there, for a brief period – Nwankwo Kanu. His name is your surname, same origins, both 1.97 tall, perhaps a little uncoordinated due to this physicality but also terribly unpredictable and deadly in the penalty area. Do you see yourself in him?
Kanu has been my idol since childhood, a very important point of reference. For his history and both as a player and as a man. He has always overcome all the difficulties of his life. Watching him made me stronger.
We have the same name and surname and it's beautiful, but I'm not even 10% of what he was. I can't even think of comparing myself to Kanu. He made football history, in his own way.
You too made history, in your own way. You became the only African to have scored in six straight games (against George Weah's five) and the Nigerian to have scored the most goals in a Serie A season (20 against Obafemi Martins' 11). If you had been told some time ago "one day you will be better than Weah and Oba Martins", would you have believed it?
I do not know what to say. The truth is that all these numbers are nice, but I've never been a person who thinks about these things. It's nice to hear that you have made great numbers and broken records of important players. At the end of the season I will do my own analysis.
His kindness, his humility. Maybe that's why everybody loves 'Simy' so much. But if a proposal came from a Serie A team or from abroad, what would you accept? The fans probably would like you to finish your career at Crotone.
I do not know. For now I'm in a place where I feel good and people love me, the transfer market doesn't interest me.
You are a good Christian. Have you always had this special relationship with God?
Yes, I was born into a Catholic family. My relatives are all believers and they raised me with core values, they taught me the importance of God in our lives. I am glad I had these teachings and I will do the same for my children.
You are a good family man, but also has a very strong bond with the city of Crotone. Did the affection of the Calabrians help you feel more at home?
I am very attached to my family in Nigeria and I miss them very much. I can't wait to go back there and hug everyone again. But it is also true that I found another family in Crotone.
I have been living in this city for five years, the affection I received here I cannot explain and it has nothing to do with football.
If a person stayed in the same place all this time, there is a reason.
The mayor's award of honorary citizenship to my son after a case of racism also demonstrates this, a special bond. My wife, my children and I are proud and happy to be from Crotone. Because that's where we are.
Adapted from Gazetta dello Sport