IKENWA NNABUOGOR tasks Napoli new signing Victor Osimhen to use Napoli to get to Real Madrid or Barcelona…
Several weeks of transfer delays, intrigues, dramas and uncertainties have finally been laid to rest as top Italian side SSC Napoli formally announced Victor Osimhen as their latest acquisition.
The superstar youngster has finally berthed at Stadio San Paolo for a princely fee reported to be in the region of around €80 million to become the most expensive African player ever.
For a previously unknown player from the rocky slums of Olusesan area of Ikeja, Lagos, it's a massive lift and a mouth-watering career boom that will guarantee he and his family's financial safety for the rest of his life, if well managed.
Osimhen courted a horde of top spenders coming on the heels of his impressive feat in front of goal at Belgium's Sporting Charleroi, the modest club who gambled to give his career a lift after a serious bump at Wolfsburg of Germany.
The former Golden Eaglets marksman never looked back – his cylinders were not short of the fires that alerted all the top spenders in world football.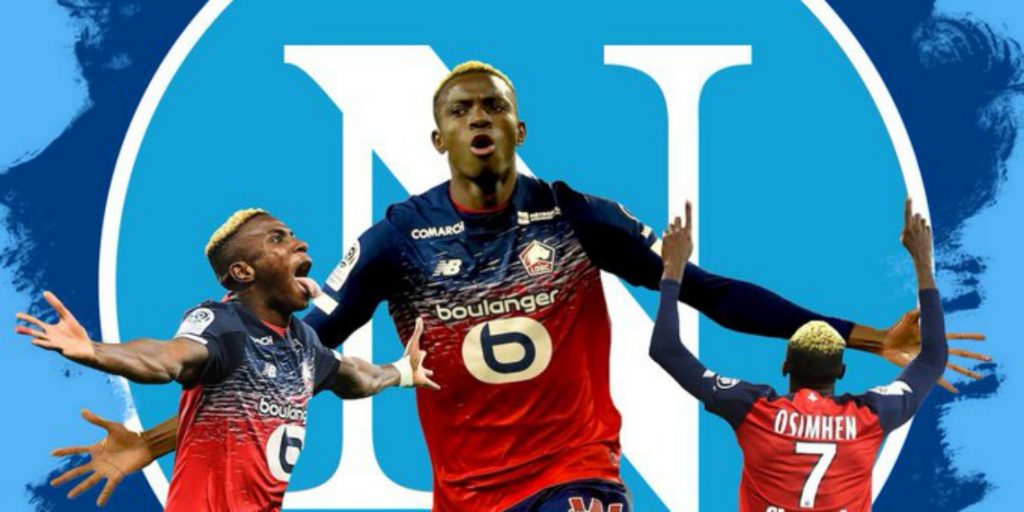 Napoli had been building for the past few seasons to replicate their late 80s giant-killing form that saw them do the unthinkable, wrestling the Scudetto twice from the vicious grip of all-conquering AC Milan, Inter Milan and Juventus.
Ambitious Napoli are also bracing to fight Juventus to let go of their vice grip of the Scudetto for the past 15 seasons and hence their acquisition of one of the deadliest African strikers.
Tough task for Osimhen – the Serie A is arguably the hardest league in the world and he will be expected to triple his French Lique 1 efforts to get on the groove for his new employers.
Club president Aurelio De Laurentiis and manager Gennaro Gattuso are avid admirers of Osimhen and played important roles in sealing his transfer despite the initial hiccups and are expected to continue supporting him to achieve his targets.
At 21, the striker is on top of his job and rearing to go. But a lot more has to be proved and one major expectation is raising his own bar and smashing his own transfer record.
Figures worth more than the eventual €80million finally paid by Napoli had been touted, thus making him one of the most prospective mega money transfer targets in world football.
The huge price tag has caused a major expectation, and Osimhen will be fired up to justify this.
His performances at Stadio Dan Paolo would guarantee this and anything short of this would not be good enough.
With his goals expected to continue rolling in, Napoli are expected to cash in big time in future sale which could attract as much as £120 million to £170 million depending on how well he fares.
Bigger spenders like Real Madrid, Barcelona, Manchester City and Manchester United could be outdoing themselves to grab his signature.
Does Osimhen have all it takes to make this happen?
It can only get better for the talented goals machine and the support he will get at Napoli could be counted on to take his game and goals higher.
What about the spotlight?
He should expect that in trailer loads and defenders in Italy are not smiling!
The Italian league is reputed to have the most vicious defenders in world football and they will be Osimhen's moonlight guests and they always come very prepared.
It won't be like it was in France and Osimhen must have been hinted.
You can be sure, Osimhen is ready for battle!