IKENWA NNABUOGOR unearths a raw gold in unknown Nigerian youngster in Turkey – Henry Austin Onoka who's destined for the top..
Two years after arriving Turkey, little known midfield star Henry Austin Onoka has attracted newly promoted Turkish league one side Menemenspor, who have tied him to a three-year contract.
His academy coach "Ice Cream" Osahon Guobadia considers this a rare feat for the 21-year-old as Menemenspor became the first club in Turkey to sign an African from an African-owned soccer academy in Turkey.
"Ice Cream" former Golden Eaglets midfielder is the owner of Istanbul-based Unityspor Academy and he took a chance on the star after impressing in the first Turkey African Nations Cup competition of whom he coached South Africa national team side.
"Onoka is one of the best modern midfielders I've worked with in recent times," "Ice Cream" told SCORENigeria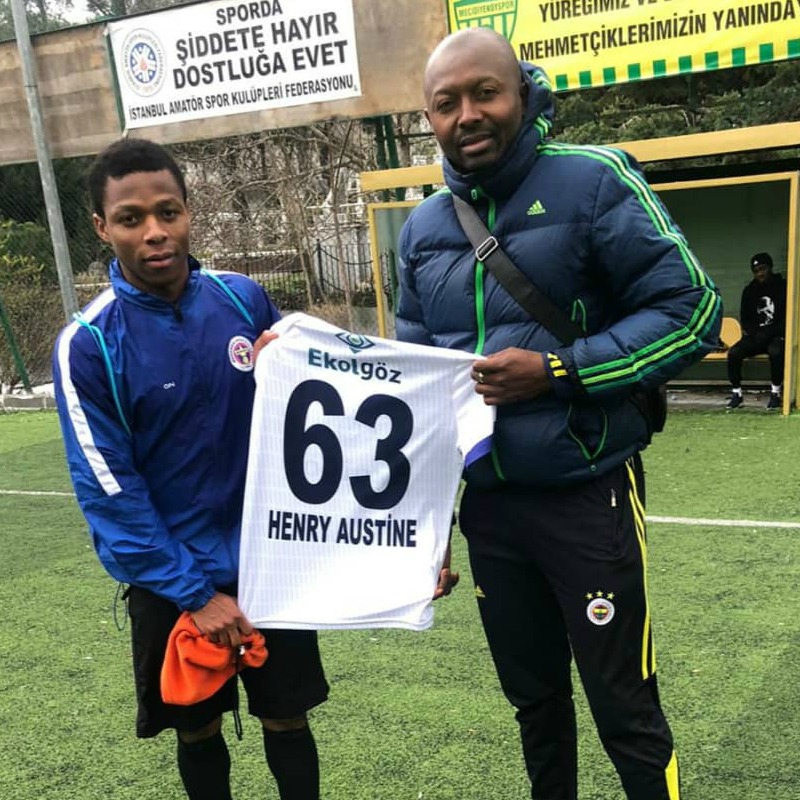 "I saw the potential in him and I wasted no time I signing him for my academy team and just a year after Menemenspor signed him for three years.
"This is the first time a Turkish professional side would sign an academy player from an academy owned by an African."
The Ifo Ogun State-born Onoka had arrived Turkey from Lagos-based academy Sportom Sporting FC, but ended up signing up for Ice Cream's Unityspor Academy.
Though yet unleashed onto the battle field on the big stage for the title and promotion-chasing side, Onoka is seen as one of the budding defensive midfielders in the second-tier of Turkish football.
After convincing coach Dilaver Mutlu with the Menemenspor U19s, Onoka is expected to make his much awaited bow in the first team as the league resumes after the winter break.
Though lacking in height, "Ice Cream" says he's got springs on his feet and can leap highest to deny the tallest of opponents the ball.
"He was regarded as the best academy defensive midfieder in Turkey and that was why Menemenspor committed him to a three-year contract," "Ice Cream" assured.
"His passing ability is top-notch as well as his marking ability making him a hot prospect for top clubs.
"Onoka is a player no Nigerian national team coach should ignore and I say this with a great sense of responsibility.
"Nigeria will have themselves to blame should they lose this player to Turkey or any country.
"He's a kind of midfielder any club would love to have in the team and that was why Menemenspor didn't waste time to tie him to a contract.
"I see him playing for a top five league in Europe soon"
Onoka told SCORENigeria he's delighted to be given the opportunity by Unityspor and believes he will grab his chance and make the most of his opportunity.
Moulded in the shape of former England and Manchester United midfieder, Paul Scholes, Onoka is surely set on a mission to become one of the most sought after midfielders in Europe in the near future.