Belgian champions Club Brugge must still be cursing their luck that they did hit the jackpot with Emmanuel Dennis after their 20 Million Euros valuation ended up to be a mere four Million Euros, what newly promoted Premier League side Watford finally paid for him.
In about a year, Dennis' transfer market value plummeted from 17 Million Euros to five Million Euros.
After a two-year delay, Emmanuel Dennis has finally got his dream move to the Premier League. It ended up not being Arsenal or Manchester United, but newly promoted Watford.
It was also not a hefty transfer fee of around 20 Million Euros, but 'only' four Million Euros.
The high expectations that had been set around Dennis since 2017 have ultimately not been fulfilled at all and that means a huge disappointment for Club Brugge.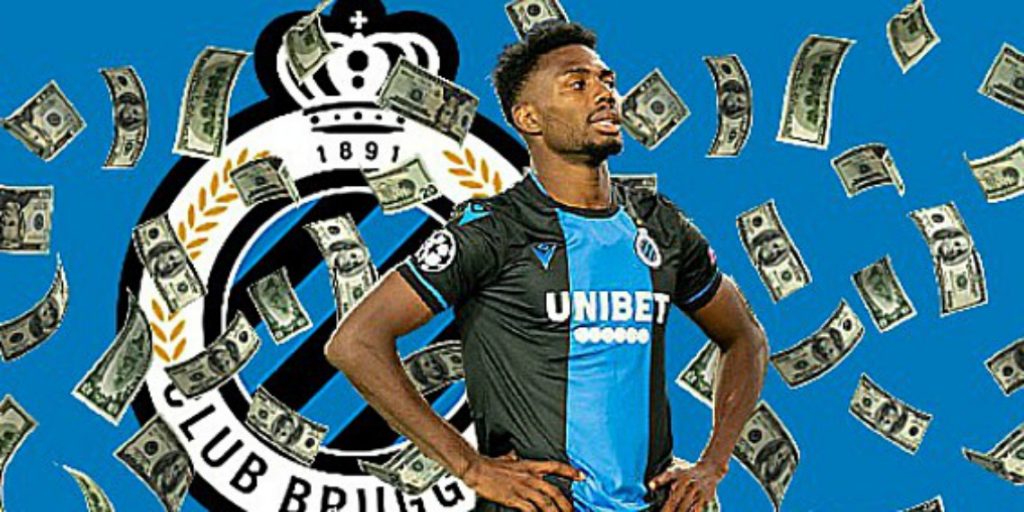 Emmanuel Dennis had his absolute top performances at Club Brugge in the 2019-2020 season. The Nigerian star then put his team as well as himself on the European football map by shining in the Champions League and the Europa League and scoring against top clubs such as Real Madrid and Manchester United.
As a result, those achievements fell in the crosshairs of just about half of the Premier League and other clubs in the top five European leagues.
In this way Club Brugge dreamed of the absolute jackpot for Emmanuel Dennis.
In the summer of 2020, General Manager Vincent Mannaert did not even start negotiations for his Nigerian winger with a transfer amount of less than 20 Million Euros.
With a market value of 16 Million Euros at the time – and of course the enormous interest in Dennis – that was not an unrealistic price setting by the Club Brugge manager.

If in the summer of 2020 no European (top) club was offered with at least 20 Million Euros, Club Brugge would fully count on the talent of Emmanuel Dennis for at one more season – a last super season at Jan Breydel would significantly boost Dennis' market value. After that, Vincent Mannaert would finally collect his initial investment of 1.3 Million Euros in many folds.

In the summer of 2020, the General Manager of Club Brugge was theoretically in a luxury position regarding the situation of Emmanuel Dennis. In practice, however, Vincent Mannaert broke out into a sweat several times. Dennis was suddenly no longer a first-team player at Club Brugge last season.
There were also complaints about his unprofessional attitude in the dressing room and of course there was the much-publicised bus incident before the Champions League trip to Borussia Dortmund.
Vincent Mannaert soon saw his hoped-for 20 Million Euros melt like snow in the sun.
On October 5, 2020, the very last day of the second summer transfer window, West Bromwich Albion and Brighton & Hove Albion attempted to sign Dennis from Club Brugge.
However, the refusal of a work permit to the player ruined both deals.
After that, only a few other clubs showed interest in Dennis, such as China's Shanghai SIPG and Germany's Hertha BSC.

Emmanuel Dennis was relegated last season at Club Brugge from a starter to a player of very little use and that did not enhance his market value in any way.
Vincent Mannaert no longer dreamed of 20 Million Euros for Dennis last year, and in January his market value crashed very drastically from 16 Million Euros to 11 Million Euros, a decrease of no less than 30 percent.
Due to several issues, Philippe Clement no longer counted on the Nigerian last season and that way his market value would decrease even more in the short term. A quick and much-needed solution thus became necessary by the last winter transfer window.

In January this year, 1. FC Cologne finally threw Club Brugge and Emmanuel Dennis the lifeline. The Nigerian attacker was hired until the end of last season, and Dennis was then able to rehabilitate himself in the German Bundesliga.
But Dennis failed to regain the spotlight and didn't score a single goal in just nine league appearances. In the last five games of the season, he did not even play for a single minute for Cologne.
In sporting terms, Emmanuel Dennis time at Cologne was a disaster and his behaviour was again often discussed.
Dennis was repeatedly criticized by his incorrect body language, for example in the match against Bayern Munich he made a throw-away gesture to a teammate. Such an action is not done in the professional Bundesliga, and they could only tolerate such behavior at Club Brugge.
In this way, Emmanuel Dennis eventually returned to Club Brugge after a fruitless loan spell. The Nigerian then had no future at Jan Breydel and had to leave the Belgian national champion in the summer months of 2021.
In the end, Club Brugge were able to conclude a deal with Watford, who won promotion back to the Premier League and paid only four Million Euros for the player.
It was one big burden less for Vincent Mannaert & Co. but also a serious financial disaster because just over a year ago, Dennis' market value decreased from 17 Million Euros to a current valuation of barely five Million Euros.
Adapted from Voetbal.be