Jerome Akor,23, is the latest goal-scoring sensation in the French Ligue 1 after he conquered Norway with Lillestrom earlier this year.
The Flying Eagle Class of 2019 has so far fired seven goals in the French top league amid talks he is on course to his first Super Eagles call-up.
In this interview, he speaks on his flying start to life in France, his targets, goals and ambitions.
The Full Interview:
How do you rate the start of the season for you?
It's good to get started in a right way. We have won some games, drawn some and lost some. But we're not where we want to be, but we're getting closer by every game.
Montpeiller's 23-year-old Nigerian striker Akor Adams scored two goals in the last match against Toulouse.

The successful player reached 7 goals in 9 matches in #Ligue1UberEats this season.pic.twitter.com/j3rPSw0Chx

— FootColic ⚽️ (@FootColic) October 30, 2023
Did you think you would have scored as many as seven goals in Ligue 1 by now?
As a striker, the goal is to score as many goals as possible in every game and I am very much around very good players who are helping me with the passes. Most of my goals are from good passes from my teammates.
This is a long season and I am not focused on the goals race. I am only focused on the games.
How have you adjusted to life at Montpellier?
Yes, I was not involved in pre-season. I only came in a week to the kick-off of the league season. But I have now been here for three months, I enjoy a great chemistry, the guys have been great and everyone is helping me to settle in.
People have to trust you, so that they could depend on you more and more. Honestly, so far, so good.
I will not get the pass on every run, but we have brilliant players (Teji (Savanier), Mousa (Tamari), Joris (Chotard), Jordan (Ferri), Whabi (Khazri). It has been good, I can't complain even though I should get more passes.
I am happy where I am, it's a good place for me to grow as a young player. I have everything that I need here, so I am happy with my decision to come here. I have a very group around me, I am satisfied.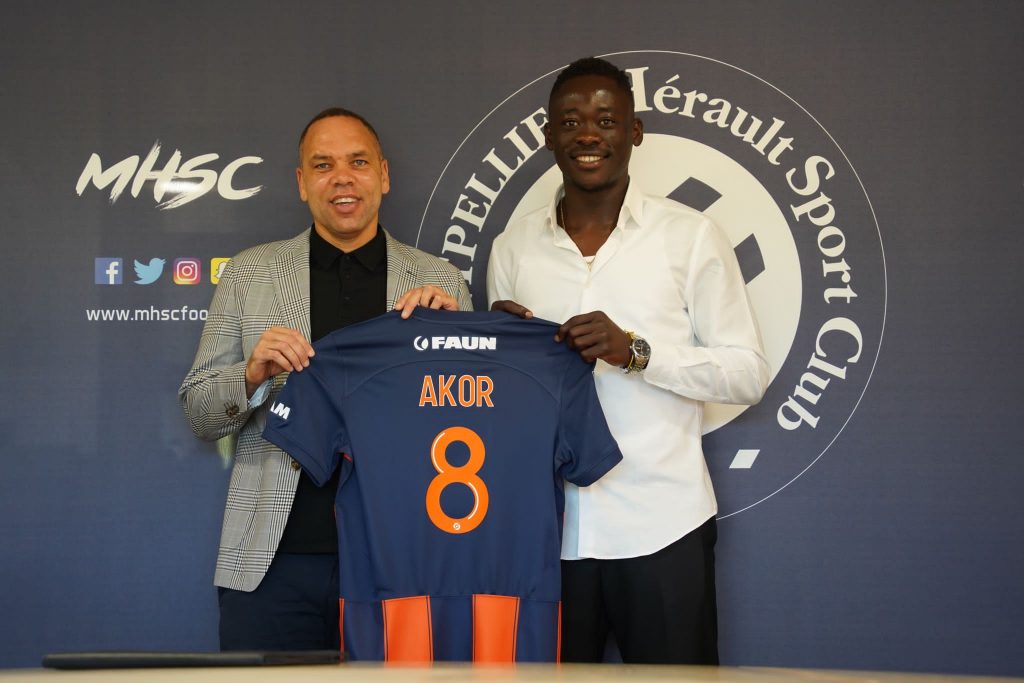 There is so much attention around you these days. Do you feel the pressure?
No. I block out every noise because Messi won the Ballon d'Or and he was back in training the next day. The thing with football is that the work keeps you humble, you have to train every day.
It's good to be noticed for what you do.
But I won't be here if I wasn't scoring goals.
How do you cope with the attention, the pressure?
I do what I have to do. I am young and I get as much rest as possible. I played 17 games before I came to France, for the body that's a lot. But here in Montpellier, we have one of the best medical staff, they help us with everything we need. I am taking care of my body as much as I can.
What is the secret behind your goals?
We train to get better. That's what I do every day. I will score some, I will miss some. I will even play bad in some trainings and in some games, but what is important is that on game day, you may have only two chances, you have to at least convert one. My team have to score and I am the man who is in front of the goal.
What was the feeling scoring the opening goal in the Derby vs Toulouse?
It was an important goal for both the team and for me. That gave us an edge over Toulouse.
How is your partnership with captain Teji Savanier?
Savanier needs no introduction. He's maybe the best No 10 in the league, I call him a Magician, he knows what to do every time. I can only make it easy for him by making the right runs, Teji will always find me and we have seen this from all the games. He knows what to do and I just have to make the runs.
Do you hope to play at the AFCON?
To play for the national team is the dream of every boy who grew up in his country, it's the same for me. But right now the games in Montpellier are my biggest focus because the AFCON is one, two months away. That will come when it comes and we will see with the club.
What are your personal targets?
I don't have a limit, but at least score a goal every game.
Most of your goals come late and that's when the coach often replaces you. Does that annoy you?
That's a complicated question, but I will always be a player who respects the decision of the coach because he sees better from outside. Yes, I am not happy going out of the pitch, no player is. This year I score most of my goals after 70 minutes, but it's decision of the coach to choose for me to stay on. In general, I like to stay on the pitch as long as possible.
𝗖𝗢𝗡𝗙'
🎙️ Akor Adams avant #PSGMHSC pic.twitter.com/jpMuVqhZeI

— MHSC (@MontpellierHSC) November 2, 2023
How do you compare Ligue 1 with the league in Norway?
Of course, Ligue 1 is a much bigger league, it's Top 5. The intensity is different, the physicality takes a lot. In Ligue 1 anybody can beat anybody. The quality of the players is also different.
How do you like to play?
I enjoy football more when I can play on my strengths, running in the back spaces, I don't like touching the ball all of the time. I am a box player, so if I can create so much in the last third, I enjoy it very much.
Who is your idol?
I watch Ronaldo (Nazario de Lima) and Didier Drogba.
Official interview by Montpellier