Sylvester Igboun has exclusively told SCORENigeria he would have become a "bad boy" working the streets of Agege but for football.
The Agege/Lagos-born forward said he was a street boy to the core until he became a professional footballer.
He talked about his life and career in this interview.
SCORENGERIA: How was the beginning of your career on the street of Lagos?
IGBOUN: I started playing football from the age of six for fun on the streets of Lagos, but I got to realise I have great talent in the game when I was in primary school, where I was made the game's prefect. Even in my secondary school, I was the game prefect.
After secondary school. I stopped the game for a while to go and mingle with my friends because of our lifestyle to find a living.
One day I went to play a game, and I didn't know there was coach, Raymond (he is late now) who was working for FC Ebeide owned by Churchill Oliseh. He invited me to FC Ebeide in Sagamu, that was how I started professionally.
SCORENIGERIA: Did your parents approve for you play football?
To be honest I came from a family of footballers. My brother was game's prefect, my older sister was a game's prefect, she is late now.
We got support from our parents to play football, already we were making a name in our locality in Agege, where I was born and brought up.
I was the one he was stubborn, I remembered when I was invited to join FC Ebeide, I didn't want to go because of my lifestyle then. I had the mentality that nothing will take me away from my friends, not even football.
So, when the coach realised I was being stubborn, he went to my parents and I was called to order by my parents. I then went back to my friends to seek permission from then if I should go, I went to FC Ebeide when my friends said I could go. 
SCORENIGERIA: You did not play in the professional league in Nigeria before you left for Denmark.
Honestly it was very difficult because I never wanted to leave my friends. Though I was excited to go, It was in January which was winter. The weather was strange and very different from the life I was used to. I was there with Izunna Uzochukwu and Sekou Oliseh, we were 15 years old, no family no friends.
It was just a matter of going to training, school and back to where we will sleep. It was a very private life for me, it was so empty. I was frustrated that I wanted to tell the coach and club management that I wanted to go back home because I was missing my friends.
SCORENIGERIA: What made FC Midtjylland home away from home for Nigerians?
They have good relationship with Churchill Oliseh, and they come to Nigeria every year to pick talents. They take care of the players a lot to let them feel at home.
SCORENIGERIA: Sometimes in 2015, you wanted to leave FC Midtjylland but the club refused to allow you go, what happened then?
It was a war for them to retain me. I have been there for some years. In the second year with the main team, I always had offers, but they kept turning them down.
In this year we are talking about, we were in Portugal and my agent called me there is an offer from China, when he told me the money involved, I didn't want to hear anything again. I was crazy about the money I told him I wanted to go, it was huge money for me and Midtjylland.
They insisted I won't go, I have to tell them is either they buy me ticket to Nigeria or let me go, but they held on to me because they wanted to win the league for the first time in their history and wanted me to help them achieve that. I was also compensated.
SCORENIGERIA: How did it feel a historic league championship with FC Midtjylland?
It was a great honour for me, and that has been the biggest trophy in my career. They were so close before, but this time we made it and I was happy with such honour and my kids were there to see me to do it.
SCORENIGERIA: Who was your role model while coming up?
I like some players who I watched and appreciate them because they did some things that looked impossible. I was crazy about Zinadane Zidane, but I didn't have anyone as my role model, I wanted to be me.
SCORENIGERIA: What would you have done if not football?
That is a tough one. Honestly I was a street boy to the core. I was living a street life, it was very deep. We just do all sorts of things with my friends to get money, we never had any plans on what we wanted out of life.
We will meet big bros in the neigbourhood to get money or something from them.
SCORENIGERIA: You are the all-time highest goal scorer in FC Ufa, how is the feeling?
It was a privilege to come to a country and club you know nothing about. When my agent told me about the club, I said okay. I never knew Russia is not an English-speaking country, everybody at the club does not speak English, it was difficult that I told my agent that I want to go back to Denmark, but a Brazilian who played for them before helped me with translation.
I am at home in Russia now and I won't mind ending my career here.
SCORENIGERIA: How was your Eagles experience like?
It was an honour for me when I got the call from coach Sunday Oliseh. I knew some of the players in the team already. Though I didn't get more caps as I wanted but I am grateful to have won those six caps.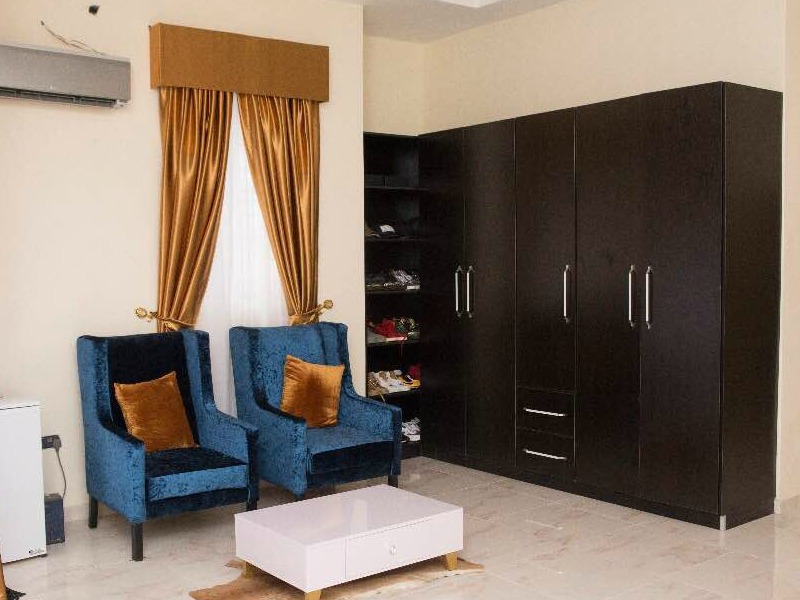 SCORENIGERIA: Are any of your kids interested in the game?
Yes one of them is going to training now, but they have to make decisions of what they want to do. I am not a father who will force my kids to do something, but I will be happy if they play football.
SCORENIGERIA: What do you have to say on COVID-19?
My payer is for God to intervene. I hear the number of deaths and cases but I never go out to see it. For the past one month I have not stepped out of my house. I am praying God should intervene.
People are complaining of hunger back at home, I feel their pain, but we have to help ourselves by staying at home so as not to spread the virus.
SCORENIGERIA: What is the message for your fans?
I appreciate them for their love and prayers. I will continue to do my best and will not to let them down.